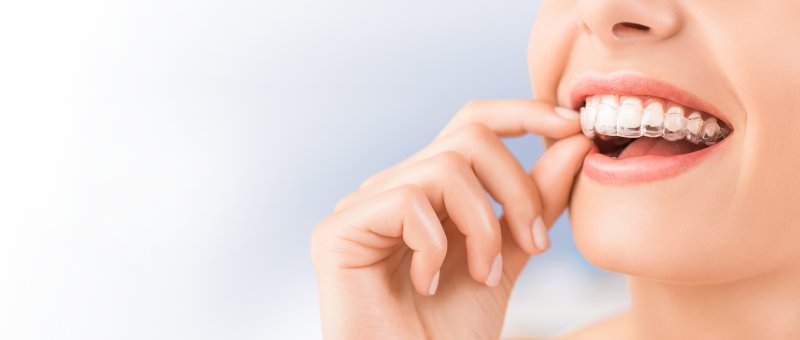 Compared to traditional braces, Invisalign in Chesterfield is much more convenient. Not only are its clear aligner trays more subtle, but they're also removable for meals and dental care! That said, treatment can have a few side effects. In particular, the aligners could slightly affect the way you speak. Thankfully, though, these changes are easily fixed and usually don't last long. To see for yourself, here's a summary of how Invisalign affects speech from your Chesterfield dentist.
Invisalign's (Possible) Speech Effects
Normally, aligners let you speak clearly. In fact, one study showed that 93% percent of patients didn't have speech impediments during treatment. Still, the trays could affect how you talk, given the way they change the space in your mouth. Some effects could include the following:
Slurred Words
When you start wearing aligners, you might first speak slowly and slur words. After all, your mouth needs to adjust to the new thickness around your palate and front teeth. Still, you'll adapt over time, and this issue will fade naturally.
A Slight Lisp
Another obstacle you might face is a slight lisp. This effect may occur if your mouth's airflow is changed by improper tongue placement. In that case, you could pronounce the "s" and "z" sounds as the "th" sound. Still, your tongue will adapt to make the problem stop.
Ways to Reduce Invisalign Speech Impediments
If you want to get rid of Invisalign speech impediments faster, there are ways to do so. Just follow the tips listed below:
Chat with People – Have verbal conversations with friends, family, and other loved ones. Not only will they give you helpful feedback, but speaking with them will calm your nerves.
Read Out Loud – Listen to your speech when reading books, magazines, and other things aloud. That way, you'll know where and how to adjust the way you talk.
Practice Makes Perfect – Continue to practice the pronunciation and enunciation of words. You'll likely overcome your speech issues in just a few days.
Other than the three tips above, remember that people adjust to Invisalign differently. Some patients only have speech impediments for a few hours, while others take several weeks to speak clearly again.
Even when Invisalign does cause speech changes, the effects don't last long. As such, you can look forward to the convenient way they'll straighten your teeth.
About the Author
Dr. Jeff Yenzer is a dentist based in Chesterfield, MO, having earned his dental degree from the University of Missouri in Kansas City. His current services include preventive, cosmetic, restorative, and even children's dentistry. However, he also has training in endodontics, dental implants, and more. As such, you can count on him for comprehensive dental care! Dr. Yenzer currently practices at his self-titled clinic and is reachable on his website or by phone at (636)-778-3019.