Root Canal Therapy – Chesterfield, MO
Relieve Toothache Pain & Restore Your Smile
Root canal therapy is a common restorative procedure that you may need if you have severe tooth decay or a serious injury. This procedure can rescue a tooth from extraction and keep your smile intact -- keep reading to find out just what to expect from root canal therapy in Chesterfield, MO.
How Do I Know if I Need a Root Canal?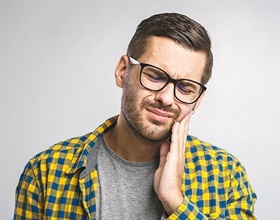 A root canal is necessary when the tissue that lives in the interior of the tooth is infected or has been damaged. Because this is where the nerves of the tooth are housed, you are likely to experience moderate to severe pain as well. A persistent ache is one of the most common symptoms of a tooth that requires root canal therapy.
Some of the other tell-tale symptoms of a tooth that needs a root canal include:
Discoloration of the tooth
A pimple-like bump on the gums below the tooth
Sensitivity
Gum recession
A foul odor emanating from the tooth
How Does Root Canal Therapy Work?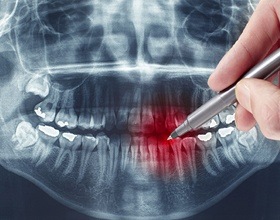 A root canal is a procedure that usually takes place over the course of two visits to the dentist's office. During the first, the interior of the tooth is cleaned out and a biocompatible material takes its place. Then, the infection is allowed to heal and your permanent restoration is created in a separate laboratory. You return to our dental office for its final placement one to two weeks later.
Root canal therapy may have the reputation of being painful, but thanks to modern anesthesia and sedation options, there is nothing to dread from this procedure. We will only begin once we are sure you are completely comfortable.
What Happens After a Root Canal?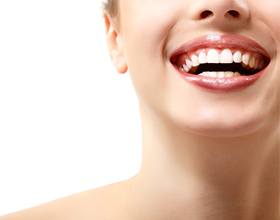 Once the procedure is complete, we will give you plenty of time to relax until you are ready to go home. We will send you off with post-operative instructions including what to eat, how to care for the tooth, and other important information.
To enjoy a speedy and comfortable recovery, make sure you…
Maintain a soft diet in the first day or two after your procedure
Take all pain medication exactly as directed
Use an ice pack to minimize swelling
Brush and floss your teeth the same day, but be careful to avoid the treatment area
Notify our dental office if your symptoms do not improve after several days
Learn More Today!
Do you have more questions about root canal therapy? We're here to answer them. Go ahead and get in touch with your dentist in Chesterfield today!