Comfortable Root Canal Therapy in Chesterfield
Do any of these dental scenarios sound familiar?
Severe pain that occurs whenever you chew or apply pressure to a specific tooth
Gums that look very red or swollen
Excessive sensitivity to hot or cold temperatures in the mouth, even after the original source has been pulled away from your teeth
The darkening or noticeable discoloration of a particular tooth
If you've noticed that one or more of these issues are currently affecting your smile, we ask that you schedule an appointment at Yenzer Family Dental as soon as possible! One of your teeth may be severely decayed or damaged to the point that extraction may become necessary. The last thing our team wants is to leave you with a smile that's incomplete. That's why we offer one last powerful line of defense that can bring back the full health and structure to an ailing tooth: root canal therapy. While root canal therapy may have unfairly earned a scary reputation over the years among dental patients, the truth is that it's a highly effective and successful treatment option that can help you preserve your complete smile for many years to come!
How does root canal therapy work?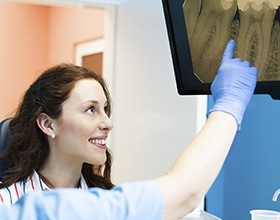 Root canal therapy becomes necessary here at Yenzer Family Dental when potentially dangerous bacteria reach the inside of your tooth, infecting the canals, pulp, and nerves located there. We can fix this issue by accessing this delicate inner chamber, thoroughly cleaning it out, and then effectively sealing the area so that it isn't threatened by further disease. We will also create a beautiful, custom-made crown so as to completely restore the look and function of the treated tooth. Your smile will look as complete and beautiful as ever—the only difference is that now your oral health will match it! In fact, teeth that have been treated with root canal therapy can typically last for the rest of the patient's life as long as they're cared for with proper oral hygiene and regular checkups.
Here in Chesterfield, convenience is an important part of the work we do for our patients. That's why we're happy to be able to provide every step of the root canal process right here in our office instead of having to involve outside specialists. This way, you enjoy a smooth, streamlined process with the team you know and trust from the beginning of treatment to the very end.
Contact Yenzer Family Dental today if you have any questions about our dental services or if you're ready to schedule an appointment. Located in Chesterfield, MO, Dr. Yenzer and his staff have dedicated themselves to helping patients achieve and maintain optimal oral health through care that's comfortable, friendly, and always high-quality. We also serve the areas of Ballwin, Wildwood, Clarkson Valley, Creve Couer, Ofallon, and beyond.