Dental Bridge – Chesterfield, MO
Complete Your Smile Through Customized Restorations
Teeth can be lost for many different reasons, but that doesn't mean you have to settle for an incomplete smile or avoid certain foods as a result of tooth loss. Highly customized solutions like dental bridges in Chesterfield from Dr. Yenzer and his team work to rebuild your smile and keep it looking natural thanks to lifelike materials personalized to match your natural teeth exactly. To replace single or multiple consecutive teeth, don't hesitate to give our office a call today and set up an appointment!
What is a Dental Bridge?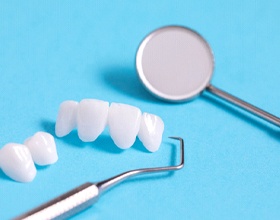 If you are missing a tooth or even three in a row, two crowns can actually be used to form a bridge and close the gap. Two dental crowns will be placed over the teeth on either side of the missing ones, and these will be bonded to prosthetic teeth to complete your smile. With a bridge, we'll not only be able to bring back your smile's appearance, but we'll also improve your bite and prevent the remaining teeth from drifting into the gap (which happens often after tooth loss).
Types of Dental Bridges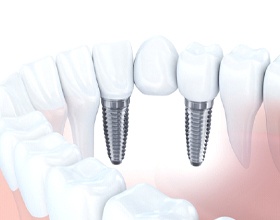 Ahead of receiving a dental bridge, you'll want to speak with Dr. Yenzer directly to determine the best type of bridge based on your needs. For example, while traditional bridges may be enough to make you feel satisfied with your smile and are relatively affordable, implant bridges offer a much more comprehensive approach to tooth loss. Consider their unique benefits below ahead of your consultation.
Traditional Dental Bridge
Dental bridges consist of several crowns fused together and attach to existing teeth, which means slight modifications to your natural enamel are necessary before the bridge can be attached. Dental bridges are a relatively affordable option for replacing single or missing teeth, but they don't last as long as implant bridges.
Implant Bridge
Instead of relying on existing teeth to keep your bridge in place, a pair of dental implants are surgically attached inside of the jaw so they can fuse with your bone and gum tissue. This ensures a much stronger and longer-lasting tooth replacement. However, you will have to pay significantly more and need sufficient bone tissue for treatment to work effectively.
The Benefits of Getting a Dental Bridge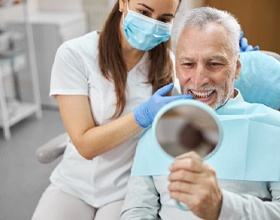 The moment a tooth is lost, your mouth begins to experience changes that can have long-term consequences for your oral health. For example, eating and breaking down food becomes more difficult, which means you won't be able to have as diverse a diet (and your nutrition can take a toll). Replacing your teeth with dental bridges (implanted or traditional) will help you take back your diet and ensure chewing is easier.
Additionally, remaining teeth can begin to shift to fill the gap in your smile, causing your bite and teeth to become crooked. Not only could this make speaking more difficult, but it can put additional stress on your jaw joint and cause headaches and discomfort in not just your jaw, but your face, neck, shoulders, and upper back.
The good news is dental bridges can help you address both of these problems on top of making your smile complete once again.
Dental Bridges FAQs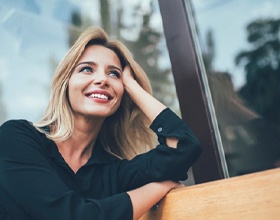 Do you have two or more consecutive missing teeth? If you're looking for replacements, then dental bridges might be the ideal option for you. While they do come with numerous benefits for your smile, it's normal to want to know as much as you can about the treatment before starting any procedures. To help you feel well-informed, our team has compiled and answered several of the most frequently asked questions we get about dental bridges in Chesterfield. Read along to learn more or give us a call today if you don't see the information you're looking for!
Do Dental Bridges Feel Natural?
Your permanent dental bridge should begin to feel increasingly natural within a few days of getting it placed. These restorations are constructed out of sturdy materials that can withstand the daily chewing forces just like your tooth enamel. This means you should be able to munch on your favorite foods easily and comfortably. Our team will need to alter and reshape your abutment teeth only to ensure the dental bridge will fit properly in your mouth. And since each patient's restoration is made precisely from the impressions of their specific bite, their new teeth should feel as natural as ever.
How Many Teeth Can a Dental Bridge Replace?
Though the number can vary based on every patient's needs, dental bridges can replace anywhere between one to four consecutive missing teeth. That said, most of these prosthetics are used to replace only one or two pearly whites. While the bridge can extend to restore four or more, this only decreases its stability and increases the chances of the treatment failing. Instead, you may need to consider an implant bridge, which will be directly anchored to your jawbone to keep your new teeth strong and secure.
Does It Hurt to Get a Dental Bridge?
Dr. Yenzer will ensure to numb the area of your mouth that he'll be working on before preparing your teeth for your dental bridge. For this reason, you shouldn't feel any discomfort throughout the procedure itself. However, you might expect your teeth to be sensitive for several days after your appointment. This is usually short-lived and can easily be managed by taking over-the-counter pain medications. Fortunately, your bridge can help your remaining teeth stay in place, preventing any risk of discomfort that can typically come from dental shifting.
Can You Take a Dental Bridge Out?
Since dental bridges are specifically designed to remain in your mouth for many years, you should not be able to remove them on your own. The only way to do this is with the help of a dental professional like Dr. Yenzer. Although some healthcare providers refer to partial dentures as "removable bridges," these two treatments are not to be confused with each other. They do share similarities only in that they can replace several missing teeth simultaneously. The major difference is that partial dentures can be removed by the patient at any point, whereas bridges are firmly fixed into place.