Cosmetic Dentistry – Chesterfield, MO
Creating a Beautiful Smile You'll Love to Share
Making the choice to improve the look of your smile with cosmetic dentistry is a big decision, and it's one Dr. Yenzer and our team approach with the utmost care and attention to detail. No two patients are the same, and no two treatment plans should be, either. That's why we'll take the time to create an individualized smile makeover plan that matches your unique needs, desires, and goals. Cracks, chips, gaps, stains, discoloration, and much more can be seamlessly erased with cosemtic dentistry in Chesterfield, MO, which include:
Invisalign® Clear Braces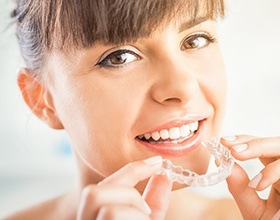 If you've always wanted to straighten your teeth but have avoided doing so because you didn't want to get metal braces, then say hello to Invisalign! This system swaps brackets and wires for practically invisible clear plastic aligner trays that are able to shift the teeth in the most discreet and comfortable way possible.
Learn More About Invisalign® Clear Braces
Porcelain Veneers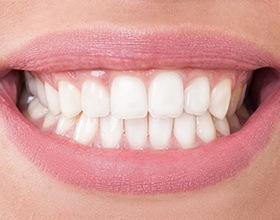 Are you struggling with several cosmetic issues all at once? Porcelain veneers can effectively give your smile a complete do-over, seamlessly covering teeth with lifelike, wafer-thin replacements that look and feel completely natural. Veneers are also more resistant against staining than your original enamel.
Learn More About Porcelain Veneers
All-Ceramic Dental Restorations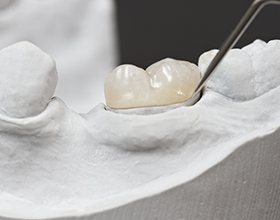 When you're in need of restorative care, the last thing you want to be worrying about is how the procedure will affect the look of your smile. That's why silver and gold restorations are part of the past here at Yenzer Family Dental of Chesterfield. Instead, our team is happy to primarily offer restorative pieces that are all-ceramic and completely natural-looking, resulting in a truly seamless treatment experience.
Direct Dental Bonding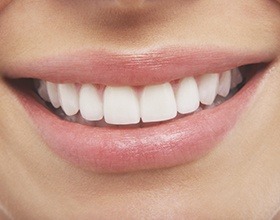 A small chip here and a minor crack there can have a big effect on your smile, so if you're ready to get rid of these tiny flaws, direct bonding is your new best friend. For this, Dr. Yenzer will apply a tooth-colored composite resin to your tooth and use it to literally sculpt away any imperfection you can imagine. With it, he can improve any tooth's shape, size, and even color! Better yet, the entire procedure usually takes less than an hour and always yields dramatic, natural-looking results.
Learn More About Direct Bonding
GLO Teeth Whitening
Is your smile looking a bit dull or yellow lately due to staining factors such as coffee, wine, tobacco, old age, or genetics? If so, we can help restore your smile's original shine using patented GLO Whitening. This treatment can make your teeth 5 shades whiter or MORE in just 30 minutes or less! After applying the professional-strength whitening gel to your teeth, we'll place the GLO mouthpiece in your mouth which will expose the gel to low-heat lights and stimulate its ability to quickly break up the most stubborn stains.
Take-Home Teeth Whitening Kits
With our help, patients can experience a major improvement in the shade of their smile. We provide customized bleaching trays and high-grade professional gel for you to use in the comfort of your own home. You'll be amazed by the dramatic changes you can achieve after just a couple of weeks of treatment!
Gum Recontouring
Is your smile being overshadowed by your gums? Does your gum line make your teeth appear short or stubby? With our soft tissue laser, we can help you achieve the perfectly proportioned smile you have always wanted. The laser's beam of light is able to painlessly remove excess tissue to expose beautiful, previously hidden dental structure. Once that is complete, Dr. Yenzer will shape your new gum line along your teeth to finish the treatment, and we know you'll absolutely love the results.
Digital Smile Design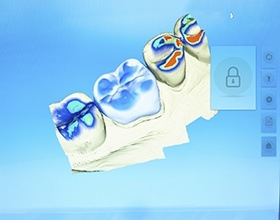 As we said above, choosing to enhance your smile with cosmetic dentistry is a big decision, so with digital imaging, we can help you have all the information you need before undergoing any treatment. Using a digital photo of your current smile, we can manipulate it to show you how a particular procedure will change your look. We'll basically create your own "before & after" photos. That way, you'll be able to actually see what kinds of results you can expect. Show it to friends and family to get their opinion, and if you see anything you would like to change, just let us know, and we'll make it happen!
Understanding the Cost of Cosmetic Dentistry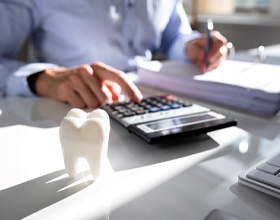 Many patients are hesitant to pursue cosmetic dentistry because they don't want to break the bank. Since most treatments aren't covered by dental insurance, it's completely normal to be concerned about the cost. Fortunately, we're here to help. At Yenzer Family Dental, we'll explain your financing options and recommend a cosmetic service within your budget that'll give you the smile you've always dreamed of. If you'd like to learn more about what to expect, continue reading or give our office a call today!
Which Cosmetic Dental Service is Right for Me?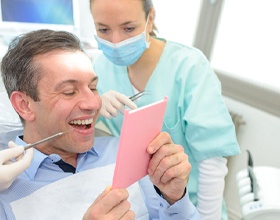 First, you must think about what you're trying to accomplish with cosmetic dentistry. Do you want whiter teeth? Straighter teeth? Differently shaped or sized teeth? No matter what your goals are, Dr. Yenzer will help you achieve them. During your consultation, he'll recommend one of the following options:
Direct Dental Bonding – If you have minor imperfections you want to address, direct bonding may be the ideal solution for you. It's a fast, efficient, and cost-effective way to improve the shape, size, and even color of your teeth. Although this option is affordable, it will need to be redone every few years.
Teeth Whitening – Even if you're diligent about brushing and flossing, your smile will eventually become discolored over time. Luckily, we can restore your teeth's original shine using professional whitening treatment. It's relatively quick and inexpensive! However, it can't help with tooth shape or position.
Veneers – Do you have multiple dental imperfections you want to address all at once? Veneers can transform multiple aspects of your smile in as little as two appointments! Although this option can be costly, it's the only one capable of correcting several flaws. Plus, you can enjoy your brand-new grin for well over a decade with proper maintenance!
Invisalign – If you have crooked or misaligned teeth, you might want to consider Invisalign. The clear aligners can discreetly and comfortably straighten your smile. Of course, this option can be expensive for a treatment that only corrects the position of your teeth.
Cosmetic Dentistry Can Be an Investment Worth Making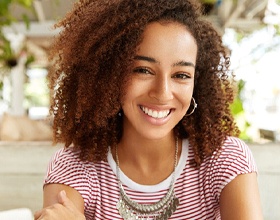 We get it – cosmetic dentistry can feel like a significant financial commitment. However, many patients find it to be an investment that pays itself off in the long run. Improving your smile does more than boost your confidence – it can lead to better relationships, higher chances of career success, and a greater overall quality of life! What's not to love?
How to Make Cosmetic Dentistry Affordable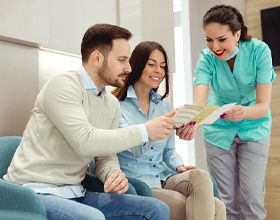 Since cosmetic dentistry is not covered by dental insurance, you'll need to find an alternative way to pay for your treatments. At Yenzer Family Dental, we have options to help make your dental bills much easier to manage, such as:
CareCredit Financing – This option allows you to split up the total cost of your treatment into smaller, budget-friendly monthly installments. Plus, there's often little-to-no interest attached!
Smile Advantage Program – For one low annual fee, you'll have access to preventive dental care and enjoy significant discounts on many other services. Essentially, you'll get the same benefits as traditional dental insurance, just without the hassle.
Ready to transform your smile? Contact our office and schedule a consultation today! We'll help you achieve your dream look while keeping your total expenses as low as possible.
Cosmetic Dentistry FAQs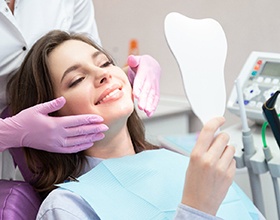 Don't like what you see every time you smile in the mirror? Don't worry – you no longer have to live with a set of teeth you don't love. Thanks to cosmetic dentistry in Chesterfield, you can transform your grin into one you'll confidently show off any chance you get! After reading the above information, it's completely normal to have a few lingering questions in mind. At Yenzer Family Dental, we want you to be as well-informed as possible before making a final decision to improve your pearly whites. To help you out, we've decided to answer some frequently asked questions below.
Is Cosmetic Dentistry Expensive?
You may be hesitant to pursue cosmetic dentistry in Chesterfield because you want to avoid having to pay an arm and a leg for it. Well, it's actually not as expensive as you might think! The pricey reputation only stems from the fact that dental insurance rarely offers coverage for cosmetic dental treatment, meaning you'll have to pay out-of-pocket. At Yenzer Family Dental, we offer CareCredit financing and a Smile Advantage dental savings plan to help make your dental bills much easier to manage. Both options allow you to improve your smile without breaking the bank!
How Do I Know If I Need Cosmetic Dentistry?
Truthfully, anyone who's not entirely confident in their smile could benefit from cosmetic dentistry. We offer multiple services to address a wide range of dental imperfections. For example, if you have stained or discolored teeth, we can correct it with professional teeth whitening treatment. If you have chipped or cracked teeth, we can restore their strength and appearance with veneers or dental crowns. Of course, the only way to know for sure whether or not cosmetic dentistry is right for you is by attending a consultation with Dr. Yenzer.
Does Cosmetic Dentistry Hurt?
Dental anxiety is a very real thing. It can keep people from seeking preventive dental care or getting the beautiful smile they've always wanted. Rest assured – Dr. Yenzer and the rest of the team will do everything they can to make your cosmetic treatment as comfortable as possible. Fortunately, most cosmetic procedures are non-invasive. Treatments like whitening and bonding usually don't even require a local anesthetic! For more invasive procedures, Dr. Yenzer will numb your mouth beforehand to ensure you feel no discomfort. It's worth noting that you may experience mild soreness or sensitivity for the first few days following your treatment, but it should go away with time.
How Long Does Cosmetic Dentistry Last?
It depends! The answer truly varies based on the specific treatments you've completed. Some (like veneers) naturally last a lot longer than others. Quick, easy, and cost-effective procedures (like whitening and direct bonding) typically only last a few months to a few years. You can help your new and improved smile last as long as possible by practicing good oral hygiene, visiting your dentist regularly, and following a healthy lifestyle.