Dentures & Partials – Chesterfield, MO
Custom-Made, Complete, & Beautiful Smiles
If you're missing teeth, you may have grown accustom to hiding your smile in public or for photo opportunities. However, this can affect your confidence and self-esteem, not to mention it makes eating and speaking difficult. At Yenzer Family Dental of Chesterfield, Dr. Jeff Yenzer believes that everyone should be able to enjoy a full and beautiful smile, which is why he offers dentures and partials as a restorative option. Keep reading to learn more about dentures and partials in Chesterfield, MO and whether or not they're right for your smile.
Types of Dentures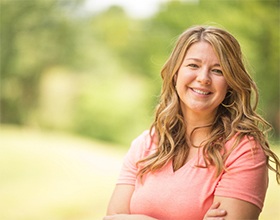 We offer two different types of dentures to accommodate various cases of missing teeth, including:
Full Dentures
For patients missing all or most of their teeth, Dr. Yenzer will recommend a full denture. This is a gum-colored, composite base that is attached to artificial teeth. Our dentures are custom-made to your exact specifications and they are held in place with natural suction. You can also use denture adhesive for slightly more stability. However, our dentures are made to be completely removeable, allowing for easy cleaning and maintenance.
Partial Dentures
If you're missing multiple teeth throughout your mouth, we may recommend a partial denture. This amazing option allows us to replace your missing teeth while keeping the rest of your natural smile intact. This custom-made prosthetic is designed to fill in the gaps in your smile like missing pieces to a puzzle. The result is a beautiful, complete grin. Partial dentures can also come in removeable or fixed options, giving our patients the best solution for their smile.
The Process of Getting Dentures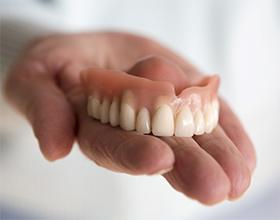 After Dr. Yenzer has decided that dentures are the right restoration for you, we will book your initial appointment. During this visit, Dr. Yenzer, an expert dentist in Chesterfield, will take images and impressions of your smile, which are sent to an advanced dental lab to create your personalized dentures. This process only takes a few weeks, and you'll come back into our dental office once your dentures are ready. At your second visit, Dr. Yenzer will ensure that you're satisfied with your new smile before giving you some easy aftercare tips. Then, all that's left to do is to walk out of our dental office with an amazing and complete smile.
Denture Maintenance and Aftercare
Once you have your dentures, proper maintenance can help you enjoy it for years to come. Be sure that you're cleaning your mouth and your dentures regularly. It's important to remove your prosthesis each night and soak it in denture solution. This will loosen any bacteria that collects on it during the day. It also gives your mouth a chance to rest because the gum tissue can sometimes get irritated after long hours of wear. You can use a soft-bristled toothbrush to clean your dentures but be sure to never use hot water because it could permanently warp them.
Are you ready to get started on your new smile? Contact Dr. Yenzer today!
Denture FAQs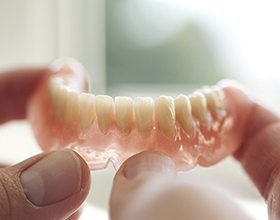 Do you feel like you're ready for new dentures? Or do you still have a few questions about the process? Dr. Yenzer is more than happy to explain anything that you feel you don't understand so that you can feel confident about getting prosthetic teeth. We've compiled a list of frequently asked denture questions below. Don't be afraid to reach out to us if you can't find the information that you're looking for on this page.
How Long Will It Take to Get Dentures After Your Teeth are Pulled?
The average waiting time for dentures after the teeth are removed is usually around six to eight weeks. (It's not exactly the same for everyone since each person's mouth heals at a different rate.) While this might seem like a long time to go without teeth, it's generally better to wait for your mouth to heal before dentures are placed. The shape of your jawbone will change throughout the recovery process; thus, waiting gives us a chance to provide dentures that fit properly, as we can take impressions of your mouth after healing is complete. It should be noted that if you're getting implant dentures, you'll also have to account for the amount of time it takes for the implants to join with the jawbone, which is usually between three to six months.
Can I Sleep with My Dentures?
The general recommendation is that you should take your dentures out before bed. You'll often be told to keep them in your mouth for the first 24 hours, and that includes sleep, but after that point you should be putting your dentures in specialized soaking solution every evening. Wearing prosthetic teeth for too long can cut off the circulation in your gums, causing the soft tissue to become irritated and potentially causing bone loss. Also, the dark, moist space under the dentures is a prime breeding ground for harmful bacteria; as a result, sleeping with dentures could raise your risk for certain diseases, such as pneumonia.
Is It Hard to Talk with Dentures?
It will take a little while to become accustomed to talking with dentures. Your tongue will have to relearn how to accommodate for your new teeth, and as a result you may have a slight lisp for a few weeks. You may also have a tendency to muffle your words. Fortunately, the adjustment process is something you can speed up by practicing talking on a regular basis. Try reading aloud whenever you can, and take the time to repeat words that you tend to struggle with. You can use a small amount of adhesive to improve the stability of your dentures while you're still getting used to talking with them.
Will It Hurt to Get Dentures?
If an extraction is performed before you receive your dentures, then there will probably be some soreness for at least a few days after the procedure, but it will fade over time. Once you receive your actual dentures, your gums might feel irritated at first. It may take a few months for your mouth to fully adapt, so to that end it's best to wear your dentures as much as possible during the day.