Dentures & Partials – Chesterfield, MO
Custom-Made, Complete, & Beautiful Smiles
If you're missing teeth, you may have grown accustom to hiding your smile in public or for photo opportunities. However, this can affect your confidence and self-esteem, not to mention it makes eating and speaking difficult. At Yenzer Family Dental of Chesterfield, Dr. Jeff Yenzer believes that everyone should be able to enjoy a full and beautiful smile, which is why he offers dentures and partials as a restorative option. Keep reading to learn more about dentures and partials in Chesterfield, MO and whether or not they're right for your smile.
Types of Dentures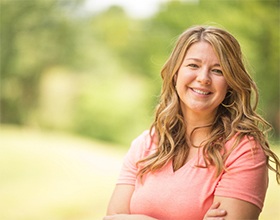 We offer two different types of dentures to accommodate various cases of missing teeth, including:
Full Dentures
For patients missing all or most of their teeth, Dr. Yenzer will recommend a full denture. This is a gum-colored, composite base that is attached to artificial teeth. Our dentures are custom-made to your exact specifications and they are held in place with natural suction. You can also use denture adhesive for slightly more stability. However, our dentures are made to be completely removeable, allowing for easy cleaning and maintenance.
Partial Dentures
If you're missing multiple teeth throughout your mouth, we may recommend a partial denture. This amazing option allows us to replace your missing teeth while keeping the rest of your natural smile intact. This custom-made prosthetic is designed to fill in the gaps in your smile like missing pieces to a puzzle. The result is a beautiful, complete grin. Partial dentures can also come in removeable or fixed options, giving our patients the best solution for their smile.
The Process of Getting Dentures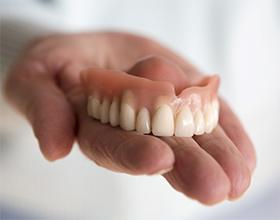 After Dr. Yenzer has decided that dentures are the right restoration for you, we will book your initial appointment. During this visit, Dr. Yenzer, an expert dentist in Chesterfield, will take images and impressions of your smile, which are sent to an advanced dental lab to create your personalized dentures. This process only takes a few weeks, and you'll come back into our dental office once your dentures are ready. At your second visit, Dr. Yenzer will ensure that you're satisfied with your new smile before giving you some easy aftercare tips. Then, all that's left to do is to walk out of our dental office with an amazing and complete smile.
Denture Maintenance and Aftercare
Once you have your dentures, proper maintenance can help you enjoy it for years to come. Be sure that you're cleaning your mouth and your dentures regularly. It's important to remove your prosthesis each night and soak it in denture solution. This will loosen any bacteria that collects on it during the day. It also gives your mouth a chance to rest because the gum tissue can sometimes get irritated after long hours of wear. You can use a soft-bristled toothbrush to clean your dentures but be sure to never use hot water because it could permanently warp them.
Are you ready to get started on your new smile? Contact Dr. Yenzer today!