Emergency Dentistry – Chesterfield, MO
Relieve Pain & Renew Your Smile
Having an emergency dentist on call is like having a good plumber: most of the time, you hopefully don't need them, but when you do, you need them fast! If you or a loved one injure your teeth in an accident or develop severe dental pain in Chesterfield, you now have an easy way to get the immediate care that you need: call Yenzer Family Dental of Chesterfield for urgent emergency dentistry in Chesterfield, MO.
Dr. Jeff Yenzer and our team will be there for you right when you need us the most. When you call in with an emergency, we'll be ready to offer advice, give first-aid tips, and even provide same-day care if needed. We'll even come in on the weekends if your situation is particularly urgent. In short, if you have dental pain and want it to go away now, Yenzer Family Dental of Chesterfield should always be your first call.
Common Dental Emergencies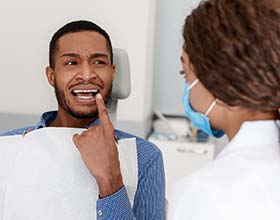 Our team is ready and able to handle the following dental emergencies and more:
Knocked out tooth
Partially dislodged tooth
Chipped, cracked, or broken tooth
Severe toothache
Damaged dental work
Object stuck between teeth
Injury to the gums, lips, or jaw
Pain or swelling in the face
Even if you are unsure whether or not your situation is an emergency, go ahead and give us a call, and we'll let you know what to do next. Often, we're able to help people resolve their issue over the phone. If we can't, then we'll make arrangements to see you as soon as possible.
Steps to Avoid Dental Emergencies
Wear a mouthguard when playing sports (contact or not!)
Don't chew on ice or other extremely hard items
Don't use your teeth to open bottles or packages
Brush and floss consistently to keep your teeth strong and infection-free
Come see us for regular checkups and cleanings so we can stop little problems from becoming emergencies later