Dental Implants – Chesterfield, MO
Restore Your Confidence with Dental Implants
Losing a tooth is a devastating event, and it's one our team here in Chesterfield doesn't take lightly by any means. Not only is your oral health compromised, but your self-confidence as well, making it hard to smile due to fear of judgment or embarrassment. You don't have to suffer in silence. Instead, let Dr. Jeff Yenzer turn back the clock on your oral health and beauty with the help of dental implants in Chesterfield. This transformative treatment option offers results that are comfortable, durable, and simply seamless.
Benefits of Dental Implants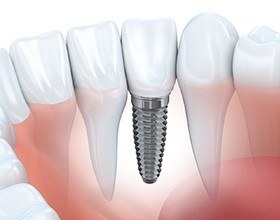 Your teeth consist of two parts: your root and your crown. Traditional tooth replacement options only replace the crown—not dental implants. They are the only solution to replace both. By surgically placing an implant post into your jawbone, it acts as a new root. This stimulates the jawbone to encourage new bone growth. As a result, your jawbone will fuse to the post to create a secure and stable foundation for your replacement tooth while also protecting your bone density.
Dental implants from Yenzer Family Dental offer patients several valuable benefits, including:
Conservative Treatment: We won't have to sacrifice the health of any of your remaining, natural teeth to accommodate the treatment.
Durability: Dental implants are not removable, meaning that you can confidently enjoy a smile that's entirely permanent and sturdy.
Natural Appearance: With the help of a customized crown or prosthetic, your restorative work will look so natural that after a while, you may even forget you experienced tooth loss in the first place!
Long-Lasting: As long as they're cared for properly with oral hygiene and regular checkups at our Chesterfield office, most implants will last for the rest of your lifetime!
High Success Rate: Dental implants offer over a 95% success rate and they are the most predictable and reliable tooth replacement solution.
Function Naturally: With the implant post fused to your jawbone, you will not have to worry about any slipping or irritation with chewing, speaking, and smiling.
Indications for Dental Implants
Dental implants can fill the empty spaces in your smile. While they are often used to replace a single tooth, they can also provide an alternative solution to traditional bridges and dentures when replacing several or all your missing teeth.
Missing Single Tooth
An implant post is placed into your jawbone. After adequate healing has occurred, an abutment is connected to the implant post. This allows a custom-made restoration to be attach to the post.
Missing Multiple Teeth
A bridge of prosthetic teeth is created to close the gap between your remaining natural teeth. Instead of capping your adjacent teeth, an average of 1 or 2 implant posts are used to hold it in place.
Missing All Your Teeth
When replacing an entire arch, you no longer need to rely on an adhesive or suction to hold the denture in place. By placing dental implant posts into your jawbone, it will be held securely in place to complete your smile.
Learn More About Implant-Retained Dentures
How Dental Implants Work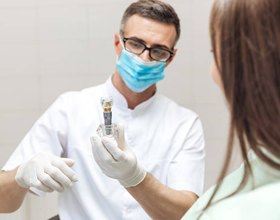 The dental implant tooth replacement process is completed over the course of several treatment phases. First, we will improve your chances for successful dental implant placement with preparatory procedures like bone or soft tissue grafting. Then, we will place the implant posts and attach a protective cap that allows the implant to fuse with the gum and bone tissue. Once the implant posts have fused with the gum line, we place the abutment posts and design your dental restoration. When we receive the final crown, bridge, or denture from our lab, we'll anchor the restoration to your dental implant posts.
Learn More about How Dental Implants Work
Understanding the Cost of Dental Implants
The cost of the procedure varies depending on your exact needs and your treatment process, such as the number of teeth that are being replaced and the materials that are used. During your initial consultation, your Chesterfield dentist, Dr. Yenzer will provide you with an estimate and discuss the various factors that influence the cost.
In addition to the number of posts, abutments, and restorations needed, you can expect to pay for any necessary additional procedures, anesthesia and sedation, and imaging. To help lower the cost, you may be able to use your dental coverage.
Although they can cost more than traditional options, they allow you to make a long-term investment in your oral health and your quality of life because they have the potential to last forever.
If you are ready to regain a complete smile, your dentist in Chesterfield can help. Contact our office today to schedule your consultation.