Chesterfield Dental Implants
Losing a tooth is a devastating event, and it's one our team here in Chesterfield doesn't take lightly by any means. Not only is your oral health compromised, but your self-confidence can suffer a blow too, making it hard to share your smile with those around you for fear of judgment or embarrassment. You don't have to suffer in silence, though. Instead, let Dr. Jeff Yenzer turn back the clock on your oral health and beauty with the help of implant dentistry! This transformative treatment option offers results that are comfortable, durable, and simply seamless.
How do dental implants work?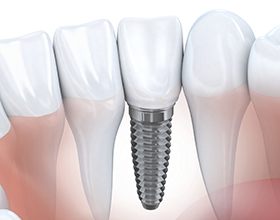 Each of your teeth consists of two important parts: the crown, which is the visible, white portion that shows when you smile, and the root, which hides beneath the gum line. Most tooth replacement options, such as bridges and traditional dentures, only replace the crown of the tooth. However, with no root left to stimulate your jawbone and soft tissue, this area can shrink and deteriorate over time. Dental implants solve this problem by effectively serving as new tooth roots, creating a sturdy, healthy foundation for your customized restoration to sit on top of. Whether you're in need of only a single new tooth or an entire arch, implants can be the well-rounded solution you've been searching for!
Dental implants from Yenzer Family Dental offer patients several valuable benefits, including:
Conservative treatment – We won't have to sacrifice the health of any of your remaining, natural teeth in order to accommodate the treatment.
Durability – Dental implants are not removable, meaning that you can confidently enjoy a smile that's entirely permanent and sturdy.
Beauty – With the help of a customized crown or prosthetic, your restorative work will look so natural that after a while, you may even forget you experienced tooth loss in the first place!
Long-Lasting – As long as they're cared for properly with oral hygiene and regular checkups at our Chesterfield office, most implants will last for the rest of your lifetime!
At Yenzer Family Dental, we believe in providing our patients with as much convenience as possible regarding their dental care. That's why Dr. Yenzer and his team handle every step of the dental implant process right here in the familiar comfort of our office, from surgery to recovery to the placement of restorations. Contact us today to learn more or if you'd like to schedule an appointment! Located in Chesterfield, MO, we also serve the areas of Ballwin, Wildwood, Clarkson Valley, Creve Couer, Ofallon, and beyond.
All-on-4 Implant Dentures
With this procedure, we can literally replace an entire row of missing teeth with a strong, natural-looking implant-retained denture in just one appointment. Dr. Yenzer will place four implants in strategic locations around the jaw, and these will create the sturdy foundation the denture will snap onto. Two implants will be placed towards the front of the jaw, where the bone is naturally thicker, and two more will be placed towards the back at an angle. This enables the implants to provide an extremely firm hold despite their limited number. Even better, this treatment is able to help those patients who have suffered bone loss due to tooth loss and have been told they weren't able to get implants in the past. Thanks to All-on-4, you can literally wake up one morning with missing teeth and go to bed that night with a complete smile.