Tooth Extractions – Chesterfield, MO
Reasons for Tooth Removal
At Yenzer Family Dental of Chesterfield, our number one goal is to help you keep all of your natural teeth for as long as possible. Unfortunately, whether due to decay, injury, or other factors, sometimes tooth extractions in Chesterfield, MO are necessary. However, thanks to Dr. Jeff Yenzer's years of experience and his light touch, this potentially nerve-inducing procedure is now quick, simple, and virtually painless.
Why You Might Need a Tooth Extraction
A tooth is too damaged to be restored with a crown or filling
Periodontal disease has deteriorated the bone supporting a tooth
A baby tooth refuses to fall out
Room needs to be created for a denture or orthodontic treatment
The wisdom teeth have become impacted (stuck) or painful
Simple Tooth Extractions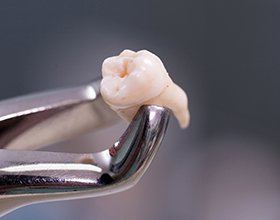 This is the method we'll use for teeth that have already erupted. After thoroughly numbing your mouth, Dr. Yenzer will hold the tooth with a pair of dental forceps, and then he'll gently rock the tooth back and forth until it slips out on its own. We never "pull" teeth here! Often a patient is completely unaware when their tooth actually comes out!
Surgical Tooth Extractions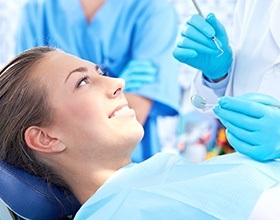 This is often necessary for the most commonly extracted teeth, the wisdom teeth. Most people simply don't have enough room in their mouth for this third set of molars, so when they start to come in, they usually cause a multitude of problems, including jaw pain, teeth crowding, and even an infection. We'll try to keep an eye on your wisdom teeth so we can remove them before they cause you any major issues.
For a surgical extraction, you'll be put under a lighter form of general anesthesia so you'll basically sleep through the entire procedure. Dr. Yenzer will make a small incision in the gums, remove any bone that is covering the tooth, and then extract the tooth. You'll be woken up when he's finished, and then you'll need about a week to recover before you can return to your normal activities. Thanks to the pain medication he'll prescribe you, your recovery should fly by smoothly.
Contact Yenzer Family Dental of Chesterfield today if you have any questions about extractions or if you'd like to schedule an appointment. Located in Chesterfield, MO, Dr. Yenzer and our staff have dedicated ourselves to helping patients achieve and maintain optimal oral health using care that is always comfortable, friendly, and always high-quality.
Tooth Extraction FAQs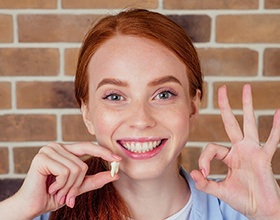 Have you been told that you need to have a tooth extracted? You may still have some unanswered questions, so we're here to help! Here are the answers to some of the most popular queries we receive about tooth extractions in Chesterfield. If you don't see the information that you're looking for below, just give us a call. We'd be happy to answer your questions and get you scheduled for an appointment.
Does Getting a Tooth Extracted Hurt?
Many patients are hesitant to commit to dental treatment because they are afraid that the procedure will be painful. The good news is that whether you are having one tooth pulled or multiple, the first step is always to numb your mouth with a local anesthetic. While you won't feel any pain during the procedure, you may experience some soreness and discomfort afterwards. By following your aftercare instructions, you can prevent infection, reduce inflammation, and promote quick healing. If discomfort worsens or you start to show signs of an infection (like a fever), give us a call so we can help!
Can I Leave the Space Empty After a Tooth Extraction?
If the tooth that is being pulled is in the back of the mouth, many patients think that they don't need to have it replaced since no one can see it. The truth is that your teeth do so much more than just add to your appearance. They are essential for proper chewing and speaking. Even one missing tooth in the back of the mouth can make it difficult to chew, leading to poor nutrition and indigestion. It is recommended that you schedule an appointment to discuss tooth replacement options once your mouth has healed.
Can I Smoke After Getting a Tooth Extracted?
Since tobacco products can delay healing, you should not smoke immediately following a tooth extraction. It is recommended that you abstain for at least 5 days afterwards. However, if you can, it would be best to avoid smoking for at least two weeks. If you have had difficulty quitting in the past, don't hesitate to let your dentist know. This way, they can help you to prepare in advance.
How Long After a Tooth Extraction Can I Get Dentures?
It usually takes around six to eight weeks to get dentures. Once you've completely healed, your dentist will take impressions of your mouth that will be used to craft your restoration. During this time, they will make a note of the ideal size, shape, and shade of your replacement teeth. Once created, your dentist will have you try them on, make final adjustments, and teach you how to care for them properly.