Dental Checkups & Teeth Cleanings – Chesterfield, MO
Your Overall Health is Our Top Priority
Many patients wonder why it's necessary for them to visit their dentist in Chesterfield when they're diligent about brushing and flossing every day at home. Dr. Yenzer is specially trained and equipped to spot oral health problems that aren't visible to the naked eye. He also is able to clean the nooks and crannies of your mouth that you can't get to at home. Plaque and tartar buildup result in the formation of common oral health problems such as cavities and gum disease. We diagnose and treat these issues in their earliest stages with routine examinations, allowing us to prevent them from becoming more severe. To keep your smile in tip-top shape and ensure that you'll be able to show off your natural teeth for decades to come, visit Yenzer Family Dental of Chesterfield every six months for dental checkups and teeth cleanings in our Chesterfield, MO dental office.
What Happens During a Routine Visit?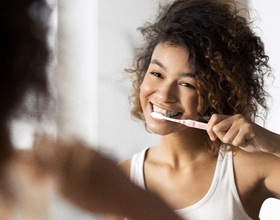 As soon as you walk in, you'll be greeted by one of our friendly dental professionals who will walk you through any necessary paperwork that need to be sorted back. They'll lead you back to the treatment room and get you settled. Depending on your age and the last time you had X-rays taken, Dr. Yenzer may collect images of your mouth to see if there are any hidden issues developing. He'll then conduct an oral cancer screening and inspect the rest of your mouth, looking for signs of common oral health problems.
Once your checkup has been completed, we'll let you know if there are any treatments you'll be needing. If not, one of our experienced dental hygienists will thoroughly clear any tartar and plaque from your gum line and clean the hard-to-reach places of your mouth. We'll finish your visit off with a quick polish using a special stain-removing paste.
Why Is Preventive Dental Care Important?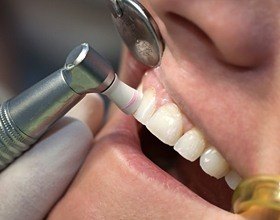 Some people don't utilize their dental insurance benefits until it's too late and they're in severe pain. With routine preventive care, not only is it easier on your wallet, but it also keeps your mouth looking and feeling fresh. While at-home oral hygiene is a vital part of keeping your teeth and gums healthy, there's only so much you can do with a toothbrush and toothpaste.
When plaque collects in small crevices of your mouth that you can't get to, it can lead to the accumulation of harmful oral bacteria and the development of cavities. Visiting your family dentist in Chesterfield every six months will ensure that your pearly whites won't be in harm's way.
How Can You Keep Your Mouth Healthy Between Visits?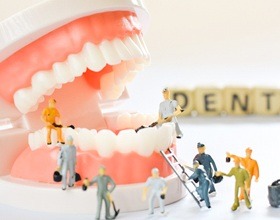 Half of the battle of being able to preserve your natural teeth during your lifetime is developing and maintaining a good oral hygiene routine at home. For some people, this can look different depending on whether they have sensitive teeth, restorations, or are living with conditions such as gum disease. However, there are some basic tasks that should be done daily to keep your teeth and gums healthy. These include:
Brushing twice every day with a soft-bristled toothbrush and fluoride toothpaste for two minutes.
Rinsing with antibacterial mouthwash every day.
Flossing your teeth at least once a day.
Paired with routine visits to your Chesterfield dentist, you'll keep your pearly whites in fantastic condition. If you have any questions about your oral hygiene or would like to schedule a checkup and cleaning, be sure to call us today!