About Yenzer Family Dental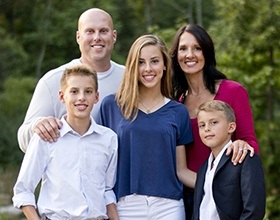 Here in Chesterfield, Dr. Jeff Yenzer and our team have taken every step possible to create an environment for patients that's always comfortable, friendly, and truly state-of-the-art. We aren't interested in rushing you and your family through cold, impersonal care—we love our jobs, and we're excited about what we do. We want to form a relationship with you that's based on respect, trust, and a strong understanding of your unique needs and desires regarding your smile. With both the latest technology and relaxing comforts (like massage chairs) available at our office, we look forward to treating you to a smooth and enjoyable dental care experience every time you come in.
Actively Involved in St. Louis
As a father of three beautiful children, Dr. Yenzer truly understands how important community is to raising a family, which is why he does whatever he can to make Chesterfield a better place for all of the people he serves every day.
For the past 18 years, he has coached for the St. Louis Scott Gallagher Soccer Club, helping young children stay fit while learning the basics of teamwork. Away from the field, he also likes to donate his time to Good Shepherd Home, Marquette High School, Lafayette High School, and Pedal for the Cause. He is also a frequent sponsor of The Big Easy 152 Memorial Golf Tournament. He truly loves helping Chesterfield smile, and he does it any way he can, whether that involves working within our office or well beyond!
If you know of any local groups, charities, or organizations that could benefit from our support, please don't hesitate to contact us and let us know!