Crowns & Bridges in Chesterfield Rebuild Broken Smiles
A lot of bad things can happen to the teeth. They can be chipped, cracked, broken, develop decay, or even go missing altogether! In any case, the result can be an incomplete smile, dental pain, and a person who feels extremely self-conscious. At Yenzer Family Dental, we're able to handle all of these problems using two of the most tried and true treatments in all of dentistry: crowns and bridges. Using high-quality materials, advanced technology, and an artistic hand, we can supply you with a restoration that will make it look like nothing bad ever happened to your teeth. If you're ready to smile with confidence again, please contact us today.
What is a Dental Crown?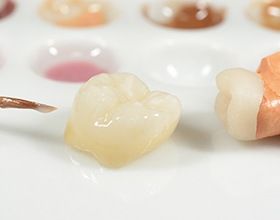 A dental crown is a tooth-shaped "cap" that simply fits over the top of a damaged tooth. Each one is custom-made, and it can be used to restore a tooth's size, strength, and appearance all at the same time. Whether a tooth has been damaged by decay or injury, a dental crown can offer a relatively quick and complete solution. It even fully encapsulates the natural tooth to protect it from further wear and tear in the future.
Crowns can be made of a variety of materials, ranging from all-metal to all-porcelain, and we'll help you choose the one that best suits your needs. The process to get one typically takes at least two visits, at the end of which you'll walk out of our office with a fresh, new smile!
What is a Dental Bridge?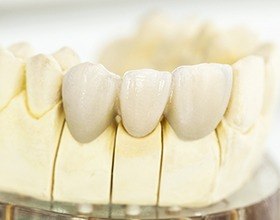 If you are missing a tooth or even three in a row, two crowns can actually be used to form a bridge and close the gap. Two dental crowns will be placed over the teeth on either side of the missing ones, and these will be bonded to prosthetic teeth to complete your smile. With a bridge, we'll not only be able to bring back your smile's appearance, but we'll also improve your bite and prevent the remaining teeth from drifting into the gap (which happens often after tooth loss).