First Children's Dentistry Visit – Chesterfield, MO
Helping Your Child Develop a Healthy Smile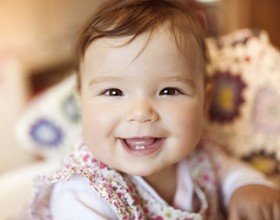 As a parent, you want the best for your child, and a healthy and beautiful smile is no exception! Early visits to the dentist are important, not only to check the oral development and health of your little one's teeth, but also to help them feel comfortable in the dental chair, which sets them up for success in their future visits with the dentist.
You may have a few questions about your child's first visit, so our team has compiled some of the questions we hear most often for you to browse through.
How Often Should My Child Visit the Dentist?
After your little one has their first visit with Dr. Yenzer around the age of three years old, believe it or not, they should continue seeing the dentist every 6 months just like you do. When your child is ready, we will incorporate dental cleanings into their appointments if we haven't already, and this will remove the excess plaque buildup that it is sometimes difficult for children to brush away on their own. Visits with Dr. Yenzer every six months also help your child acclimate to visiting the dentist and allows your dentist in Chesterfield to make you aware of any developmental concerns early on.
When Should I Start Using Toothpaste with My Child? And how much?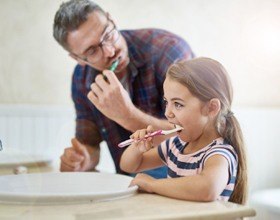 You can begin using a toothpaste that is safe to swallow as soon as your little one's teeth arrive. Use a soft bristle brush designed for infants and brush their first teeth twice daily. When your child gets a little older and has learned to spit around the age of 2 or 3 years old, you can incorporate a fluoride toothpaste into their routine to help build and strengthen their teeth.
Why are Baby Teeth so Important if They are Just Going to Fall Out?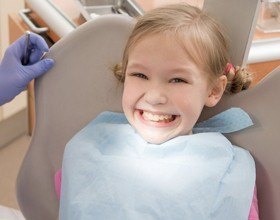 It's true that baby teeth only stick around for a few years; however, they have a few important jobs to do while they're here; and this is why it is critical to keep them clean and healthy and teach your child to do the same.
Baby teeth act as guides and place holders for adult teeth
Baby teeth help you child form their first words and learn to develop correct speech patterns
Baby teeth also help your child learn to navigate and enjoy eating solid foods.
If a baby tooth is knocked out or lost too soon, it can affect your child's oral development.
Are There Any Food Restrictions After My Child's Dental Visits?
There are no food restrictions for you to worry about after your little one's dental visits unless Dr. Yenzer is recommending fluoride treatments. If fluoride has been applied during their cleaning and checkup, we may ask that they avoid eating or drinking for 30 minutes after their procedure.
If you didn't find an answer to your questions here, we encourage you to call Yenzer Family Dental of Chesterfield and speak with one of our friendly and knowledgeable staff members.