Dental Implant-Retained Dentures – Chesterfield, MO
Rebuilding Healthy, Beautiful Smiles
Replacing lost teeth is always important to ensure your comfort and confidence, but after the loss a full row of teeth, replacing the lost structure is essential to ensure dental function from speaking to eating a nutritious meal. At Yenzer Family Dental of Chesterfield, we're here to help our dental patients replace any number of missing teeth with a variety of options, including dental implant-retained dentures in Chesterfield, MO, to repair the form and function of a damaged smile. We offer a variety of full-mouth tooth replacement options, including removable dentures and innovative implant supported prosthetics. When you're ready to get started, contact Yenzer Family Dental of Chesterfield to schedule a tooth replacement consultation with our dedicated dentist and team in Chesterfield. We'll review your treatment options and help you to find the best tooth replacement plan to meet your needs.
What is a Dental Implant-Retained Denture?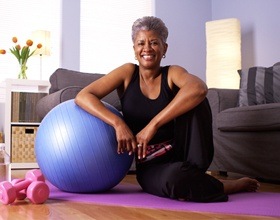 Removable dentures have been used for years to restore the smiles of fully edentulous (without teeth) people. These dentures are crafted using a gum-colored base material to support a full row of teeth. The base material is fitted against the gums to create suction that holds the denture in place against the gums. An implant supported denture adds the stability of tooth root replacement, anchoring the prosthetic to between four and six dental implant posts that fuse with supportive bone and soft tissue, mimicking the lost tooth roots.
What are the Benefits of Dental Implant Dentures?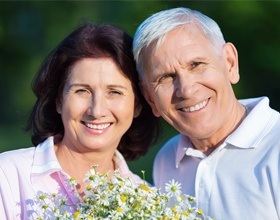 Before we begin an advanced treatment plan like implant supported dentures, we'll take as much time as necessary to explain the advantages of implant supported tooth replacement, so you fully understand what makes this complex treatment worth the investment. Some of the many benefits of implant supported dentures include the following:
Lasting – removable dentures need to be replaced frequently (at least every ten years) to ensure proper fit and function. Implant dentures can last two decades or longer with proper care.
Functional – traditional dentures replace about 20% of healthy chewing function, but an implant supported prosthetic restores 70% or more, allowing you to eat all of your favorite foods without worries.
Simple care – you can brush your implant denture like healthy teeth, and there's no need to remove the dentures overnight.
Am I a Candidate for Dental Implant Dentures?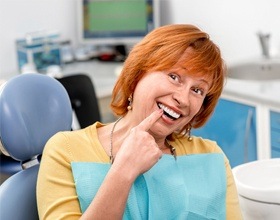 Thanks to improvements in the methods and materials used to replace missing teeth with dental implants, almost any patient can successfully complete these procedures. Ideal candidates for dental implant supported tooth replacement include those with:
Good oral and overall health
Approval for surgical treatment from your general physician
Ability to make adjustments to medications as necessary to ensure safety during treatment
No negative past experiences with surgery or anesthesia
Commitment to complete the complex treatment process
How Much do Dental Implant Dentures Cost?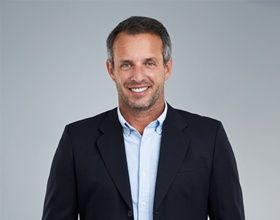 The cost of an implant supported denture will vary depending on your unique situation, but some of the variables that impact the cost of your treatment include:
The materials used to craft your denture and the manufacturer that produces the prosthetic
The number of dental implant posts used to support the denture
The materials used to craft the dental implants, usually titanium or zirconia, and the manufacturer who crafts the implant
The need for preparatory tooth extractions, tissue grafts, or other services prior to treatment
The use of dental sedation to ensure your comfort throughout the treatment process
How do I Care for My Dental Implant Denture?
Caring for an implant denture can be pretty simple. You'll brush the replacement teeth twice a day for at least two minutes at a time. Using an air or water flosser to remove plaque buildup at least once each day can further extend the longevity of your denture and reduce your risk for gum disease that can lead to dental implant failure.