All-on-4 Dental Implants – Chesterfield, MO
Renew Your Smile in a Single Appointment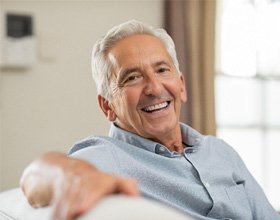 If you have lost a significant number of teeth, traditional dentures can help you, but they come with some significant downsides. Dental implants present a superior solution, but you might dislike the idea of a lengthy treatment process. Did you know that there is a fast dental implant treatment for full arch tooth replacement? Thanks to the remarkable All-on-4 protocol, you can have your remaining natural teeth extracted, get your dental implants inserted, and receive a beautiful new set of teeth — it's actually possible to renew your smile in a single appointment!
How Do All-on-4 Implants Work?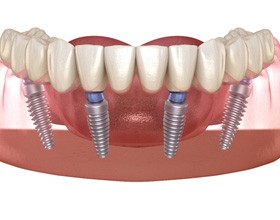 As the name of the treatment implies, All-on-4 in Chesterfield uses just four dental implants to provide support for an entire arch of prosthetic teeth. Two of the implants are placed at the back of the jaw, and two are placed toward the front of the jaw — in areas where the bone is naturally strong and thick. Immediately after the implants are inserted, you'll receive a provisional (temporary) denture to go on top of them. After you have healed adequately from the surgery, you'll receive a permanent set of replacement teeth.
Am I A Candidate for All-on-4 Implants?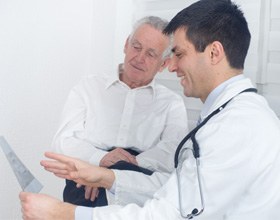 You may be a good candidate for All-on-4 treatment if:
You have lost all or more of your teeth in either your upper or lower jaw (or both).
You are committed to excellent oral hygiene and are free of active gum disease.
You have adequate jawbone density to support dental dental implants in Chesterfield . Even if you have already lost some jawbone density, you might still qualify for All-on-4 due to the strategic placement of the implants. You might not even need a bone graft.
You are tired of your traditional dentures
What Are the Benefits of All-on-4 Implants?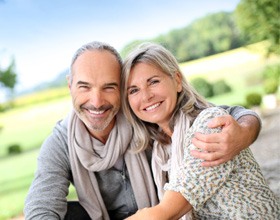 Some of the most outstanding benefits of All-on-4 treatment include:
Most patients require just one surgery. This is in contrast to traditional implant treatments which typically require at least two surgeries.
THe procedure is minimally invasive.This contributes to a relatively fast recovery time.
The results are beautiful and functional. All-on-4 dentures are designed to look like natural teeth. They are also sturdy enough to stand up to a wide variety of foods, including foods that pose a challenge for traditional dentures.
THe implants are substitute tooth roots. Because they bond with the jawbone, they can help to keep it as strong as possible.
All-on-4 vs. Traditional Dental Implants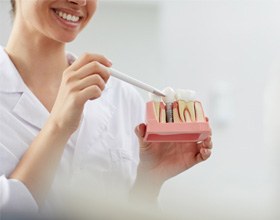 Some key differences between traditional dental implants and All-on-4 include:
All-on-4 usually requires fewer dental implants per arch. (Traditional treatments may require 6-8 implants per arch)
The treatment timeline with All-on-4 allows you to enjoy a restored smile on the same day as your implant placement surgery. With traditional implants, you usually have to wait several months between the surgery and the restoration.
All-on-4 may cost less than traditional treatments.
Of course, there are some circumstances in which traditional dental implants are a better option than All-on-4. As your implant dentist in Chesterfield, our team will help you compare your choices so you can settle on the one that is the best fit for your circumstances. Contact us when you are ready to learn more!