All-on-4 Dental Implants – Chesterfield, MO
Renew Your Smile in a Single Appointment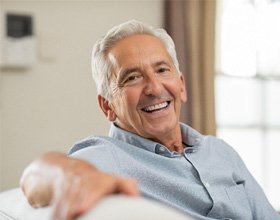 If you have lost a significant number of teeth, traditional dentures can help you, but they come with some significant downsides. Dental implants present a superior solution, but you might dislike the idea of a lengthy treatment process. Did you know that there is a fast dental implant treatment for full arch tooth replacement? Thanks to the remarkable All-on-4 protocol, you can have your remaining natural teeth extracted, get your dental implants inserted, and receive a beautiful new set of teeth — it's actually possible to renew your smile in a single appointment!
How Do All-on-4 Implants Work?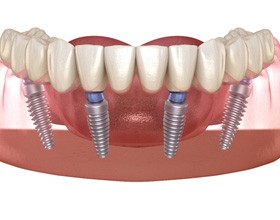 As the name of the treatment implies, All-on-4 in Chesterfield uses just four dental implants to provide support for an entire arch of prosthetic teeth. Two of the implants are placed at the back of the jaw, and two are placed toward the front of the jaw — in areas where the bone is naturally strong and thick. Immediately after the implants are inserted, you'll receive a provisional (temporary) denture to go on top of them. After you have healed adequately from the surgery, you'll receive a permanent set of replacement teeth.
Am I A Candidate for All-on-4 Implants?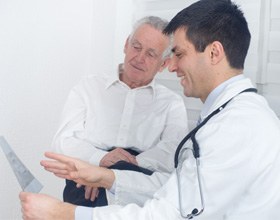 You may be a good candidate for All-on-4 treatment if:
You have lost all of your teeth in either your upper or lower jaw (or both).
You are committed to excellent oral hygiene and are free of active gum disease.
You have adequate jawbone density to support dental dental implants in Chesterfield . Even if you have already lost some jawbone density, you might still qualify for All-on-4 due to the strategic placement of the implants. You might not even need a bone graft.
You are tired of your traditional dentures
What Are the Benefits of All-on-4 Implants?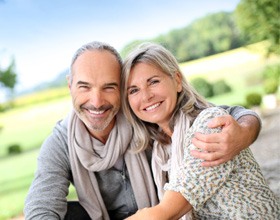 Some of the most outstanding benefits of All-on-4 treatment include:
Most patients require just one surgery. This is in contrast to traditional implant treatments which typically require at least two surgeries.
THe procedure is minimally invasive.This contributes to a relatively fast recovery time.
The results are beautiful and functional. All-on-4 dentures are designed to look like natural teeth. They are also sturdy enough to stand up to a wide variety of foods, including foods that pose a challenge for traditional dentures.
THe implants are substitute tooth roots. Because they bond with the jawbone, they can help to keep it as strong as possible.
All-on-4 vs. Traditional Dental Implants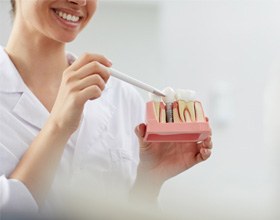 Some key differences between traditional dental implants and All-on-4 include:
All-on-4 usually requires fewer dental implants per arch. (Traditional treatments may require 6-8 implants per arch)
The treatment timeline with All-on-4 allows you to enjoy a restored smile on the same day as your implant placement surgery. With traditional implants, you usually have to wait several months between the surgery and the restoration.
All-on-4 may cost less than traditional treatments.
Of course, there are some circumstances in which traditional dental implants are a better option than All-on-4. As your implant dentist in Chesterfield, our team will help you compare your choices so you can settle on the one that is the best fit for your circumstances. Contact us when you are ready to learn more!
All-on-4 FAQs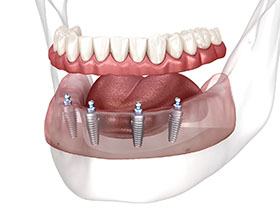 As discussed above, All-on-4 is different from traditional dental implant procedures and other tooth replacement solutions in a variety of ways. Before you decide to commit to an All-on-4 treatment, you need to confirm that you understand what it involves, what will happen afterward, and how it compares to your other treatment options. These FAQs cover a few of the questions that we have commonly received from potential All-on-4 patients. Is there something else you want to ask? Please call us!
How Long Do All-on-4 Implants Last?
There are two main components of All-on-4 implants: the implant posts and the dentures. The posts can last for 30 years or more as long as they're well-maintained. Some people are even able to keep the same implant posts for the rest of their lives. The dentures, meanwhile, have a separate lifespan to consider. In general, you can expect them to last 10 to 15 years, although again the care you give them will make a difference.
How Do You Clean All-on-4 Dental Implants?
Maintaining clean dental implants requires a diligent approach to oral hygiene. It's recommended that you:
Brush at a minimum of twice a day with a soft-bristled toothbrush and toothpaste that doesn't contain abrasive ingredients.
Use super floss to clean the space underneath your dentures after every meal to stop bacteria and food particles from building up.
Take the time to brush your tongue and the inside of your cheeks to get rid of the harmful bacteria that can accumulate in different parts of your mouth.
Once you're done with brushing and flossing, use a non-alcoholic mouth rinse.
Additionally, you should visit our office every six months so that we can perform a thorough cleaning while also identifying areas that you should pay closer attention to during your daily oral hygiene routine.
Is the All-on-4 Procedure Painful?
For many people, the All-on-4 procedure doesn't cause nearly as much discomfort as they expected. This is thanks to the modern dental practice of using a local anesthetic to numb the mouth before the treatment. Additionally, if you're nervous or are generally unable to sit still for long periods of time, sedation might be used during your procedure. Not only does this keep you calm, but it also further reduces discomfort.
Once the procedure is complete and your implants are in place, you'll be given some aftercare instructions that can help you manage any post-surgical pain.
How Much Does All-on-4 Cost?
The cost of All-on-4 is affected by the number of appointments required, whether or not preparatory treatments are needed, and other factors. The overall price will be discussed at your initial consultation, and you'll be given a reliable estimate to consider.
When it comes to dental insurance, bear in mind that while many plans won't pay for the dental implant posts, the dental prosthetic they support is often still partially covered. Your dental insurance carrier can explain the specifics of your coverage if you give them a call.