Teeth Whitening – Chesterfield, MO
Have a Bright, Beautiful Smile Again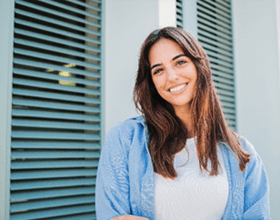 Stubborn stains can surface for numerous reasons, including frequent coffee consumption, certain medications, and the natural aging process. Although this can initially take a toll on your self-esteem, it's important to know that you can have a bright, beautiful smile again with our in-office and take-home teeth whitening treatments in Chesterfield, MO! The first step is scheduling a consultation with our team or reading on to learn more about the treatment process.
Why Choose Dr. Yenzer for Teeth Whitening
Highly Rated Dental Office in Chesterfield
Caring Dentist with 20+ Years of Experience
Appointments as Early as 7 AM
Who Is a Good Candidate for Teeth Whitening?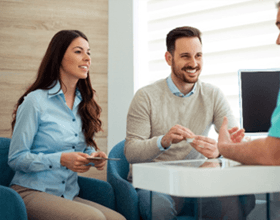 If you're unhappy with the shade of your teeth, then you should absolutely schedule an appointment with Dr. Yenzer to find out. At your appointment, he will learn all about your aesthetic concerns as well as your dental history, any medications you're taking, and the condition of your teeth and gums. With all of this information, he can determine whether or not you're a candidate for teeth whitening. Fortunately, the large majority of patients are!
How Does Teeth Whitening Work?
Professional teeth whitening treatments are far superior to over-the-counter alternatives for several reasons, including the fact that they are personalized to you and utilize safe, clinically tested, and powerful whitening agents. Our team will give you an overview of the entire treatment process at your appointment, but you're welcome to learn more about in-office and take-home teeth whitening in the meantime right here!
Take-Home Teeth Whitening
Our take-home teeth whitening treatments allow you to enjoy the best of both worlds: you can achieve the gorgeous results you desire and do so from the comfort of your own home! We'll provide you with everything you need – including the custom bleaching trays and the professional whitening gel – and you'll notice that your teeth are noticeably brighter in just a few weeks.
In-Office Teeth Whitening
With GLO Whitening, we can whiten your teeth by five shades or more in just 30 minutes! With in-office treatments, we take care of the entire treatment process, from applying the gel to putting the mouthpiece in place and monitoring the progress every step of the way.
Tips for Maintaining Your Brighter Smile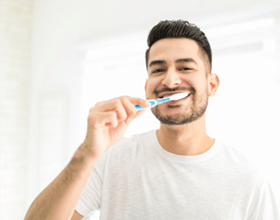 With the right best practices in place, the results of your teeth whitening treatment can last for several years. To keep your teeth nice and bright, we recommend:
Committing to a good at-home oral hygiene regimen.
Using a straw to drink coffee and other dark-colored beverages.
Getting a checkup and cleaning every six months.
Quitting smoking and other unhealthy dental habits.
Visiting us for touch-up treatments as needed.
If you want to learn more about professional teeth whitening (or any of our other cosmetic dental services), then schedule a consultation with us today!