Invisalign Clear Braces in Chesterfield
You don't have to let misaligned teeth stand between you and a healthier, more confident smile. At Yenzer Family Dental, we're proud to say that we offer Invisalign, the popular cosmetic braces system that's helping patients transform their health and wellbeing around the world.
What Is Invisalign?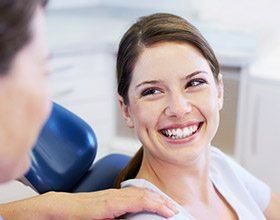 Unlike traditional braces, which use unattractive metal brackets and wires to straighten teeth, Invisalign relies on discreet trays that are clear and almost invisible. When you begin your treatment, we'll give you a series of these aligners. You'll wear each one for 20 – 22 hours each day for about two weeks. Every time you graduate to a new aligner, your teeth get a little bit closer to where they're supposed to be.
The treatment process with Invisalign is pretty easy. It starts with a consultation in our office, where we'll talk to you about your smile goals, take some X-rays, photographs, and impressions, and perhaps even show you a digital preview of what your smile might look like after Invisalign. This is the perfect opportunity to ask your dentist in Chesterfield any questions you have about the treatment.
Throughout the process, you'll stop into our every four to six weeks or so for periodic checkups. We'll see how your teeth are doing, provide you with new aligners, and (hopefully) listen to your positive feedback about how you're noticing the changes in your smile.
What Are the Benefits of Invisalign?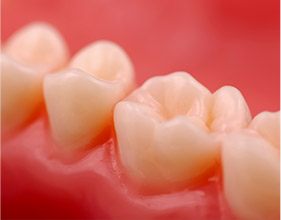 The advantages of Invisalign in Chesterfield are almost too many to list. Here are some of the most outstanding ones:
Because the aligners are removable, you'll never have to worry about dietary restrictions like you would with traditional braces. All you have to do is remove the aligner, enjoy your food, rinse the aligner, and replace it in your mouth.
The removable nature of the aligners also makes it a breeze to brush and floss your teeth. There are no annoying metal brackets and wires to navigate around.
Invisalign is more comfortable than metal braces; there are no metal bits to irritate your gums and cheeks. Many patients have also remarked that Invisalign is less painful than its old school counterpart as it moves the teeth.
Invisalign is fast. Treatment time varies from case to case, but the average duration is about a year. You may start to notice results in just a couple of months. Traditional braces often take 18 months or longer to complete their work.
There is a small blue compliance dot on the aligners that come with Invisalign for teens. Parents are able to keep an eye on whether their adolescents and cooperating with the treatment.
Since Invisalign is often considered a necessary treatment, your insurance may help you to pay for it.
What Is Life Like After Invisalign?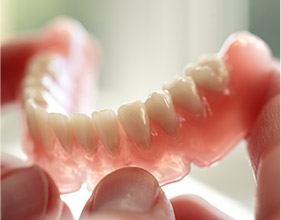 Once you're done wearing that final aligner, you'll come into our office and we'll provide you with a retainer that will help you keep your new smile right where it belongs. If you wear it as often as you should, you can look forward to many years of benefits. Straightening your teeth will:
Improve your oral health. A misaligned bite and crooked teeth can cause jaw problems and present challenges to oral hygiene. Invisalign corrects these issues.
Boost your confidence. Crooked teeth can make you hold back from smiling, especially when you meet new people. With your straightened set of pearly whites, you probably won't be able to stop smiling!
Would you like to know if Invisalign from your Chesterfield dentist is right for you? Please contact our office to schedule your consultation with Dr. Yenzer.
Invisalign FAQs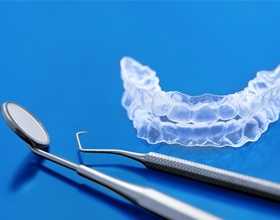 Wondering whether Invisalign in Chesterfield is right for you? It's important that you do your homework and gather all of the facts before you commit yourself to any kind of orthodontic process. Schedule a consultation with us; we'll address any concerns you might have and help you figure out the best path towards a better smile. To get you started, here are the answers to just a few of the questions that patients often ask about this treatment.
What Can Invisalign Correct?
The most commonly known use for Invisalign is to straighten crooked teeth, but there are several other orthodontic issues it can treat as well. For example, bite problems where the upper and lower teeth don't line up properly (overbite, underbite and crossbite) can often be corrected. You might also be able to use Invisalign to correct spacing issues between your teeth, whether they're too far apart or crowded together. Depending on the severity of the case, though, sometimes traditional orthodontics might be a better option. During your consultation, your dentist in Chesterfield will examine the state of your oral health to decide whether Invisalign would be effective.
How Can I Keep Invisalign Clean?
It's important to protect your oral health by keeping your aligners clean. Rinse them whenever you take them out of your mouth to get rid of any plaque or dried-on saliva. You should also periodically soak them in denture cleaner and thoroughly clean them with a clear anti-bacterial soft soap.
Because Invisalign aligners are form fitted to your mouth, it's easy for them to accidentally trap particles against your teeth, so don't forget to keep brushing and flossing on a regular basis. You can brush your aligners as well; just don't use toothpaste to do so, or you might damage them!
How Old Do You Need to Be to Get Invisalign?
Like other orthodontic treatments, Invisalign usually works best after all the permanent teeth have erupted, which usually happens by the ages of twelve or thirteen. However, the ability to be responsible with the aligners also must be taken into account; if a patient keeps taking them out unnecessarily or forgets to put them back in, it could lengthen treatment time. For this reason, Invisalign is usually recommended for teenagers and adults who already have all their permanent teeth and are disciplined enough to help ensure the treatment's success.
Will Invisalign Hurt?
When you first get your aligners, you might feel some pressure on your teeth. This is completely normal, of course; the whole point of Invisalign is to gradually move the teeth into place. This will go away after a few days, though you might experience some new pressure once you move on to the next aligner.
You might also notice that the aligners irritate your gums and the inside of your lips at first, but this is also temporary. Your mouth will eventually develop callouses to protect itself, and at that point the discomfort will fade.