Porcelain Veneers – Chesterfield, MO
Transform Dental Flaws into a Beautiful Smile
Do your teeth have stains, discolorations, chips, cracks, or gaps? Do you constantly feel self-conscious about people seeing your smile, including close friends and family? Would your life be so much better if you weren't so worried about the appearance of your pearly whites? If you answered "yes" to any of these questions, then porcelain veneers from Yenzer Family Dental of Chesterfield may be exactly what you need. In just two quick appointments, porcelain veneers in our Chesterfield, MO dental office can transform dental flaws into a beautiful smile!
What Are Porcelain Veneers?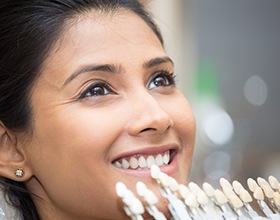 Porcelain veneers are extremely thin ceramic coverings that are bonded to the front of the teeth to dramatically change their appearance. With them, we can eliminate a wide variety of different cosmetic issues at the same time! You can get one to enhance a single tooth or a complete set to achieve a smile makeover—it's entirely up to you. Each veneer is custom-made and colored to meet your exact specifications. We usually use porcelain veneers to improve teeth that are:
Chipped, cracked, or visibly damaged.
Stained or severely discolored.
Slightly crooked or gapped.
Small, misshapen, or worn-down.
What's the Process for Getting Porcelain Veneers?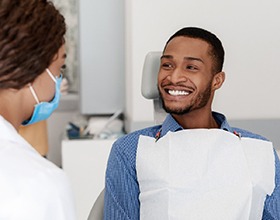 If you're ready to get the smile of your dreams, then your first step is to come visit Dr. Jeff Yenzer. He'll talk with you about what you would like to change about your smile and help you determine if porcelain veneers are the best way for you to achieve your goals.
If they are, the entire process to get them usually takes only two easy appointments. At your initial visit, he'll slightly reshape your teeth so the veneers will lay flat against them. Then, he'll take an impression of the area and send it off to a dental laboratory, where it'll be used to design and fabricate your veneers. You'll wear a temporary set while this is being done. Once they are ready, you'll return to our dental office where Dr. Yenzer will remove your temporaries and place your permanent veneers. He'll check the fit once more and make sure your bite is properly aligned, and after that, your new smile is ready for the world!
What Are the Benefits of Porcelain Veneers?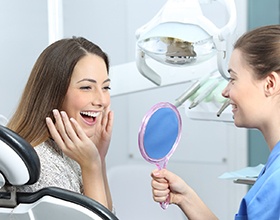 Thanks to modern dental techniques and technology, you can choose from an array of cosmetic dentistry services to get the smile you've always wanted. However, porcelain veneers offer several unique benefits, like:
Correct many different issues at once: Instead of addressing numerous dental issues with several different treatments, porcelain veneers can erase a variety of problems at once.
Red carpet-ready results: Porcelain veneers provide lifelike, beautiful results, which is why they're a popular choice among celebrities like Morgan Freeman and Miley Cyrus.
Long-lasting and easy to care for: Caring for veneers is as easy as practicing great oral hygiene and breaking bad chewing habits, which can help them last for many years to come.
If there's something you don't like about your smile, porcelain veneers can help you finally do something about it! To learn more about this fantastic treatment and what it could do for you, please contact us today.