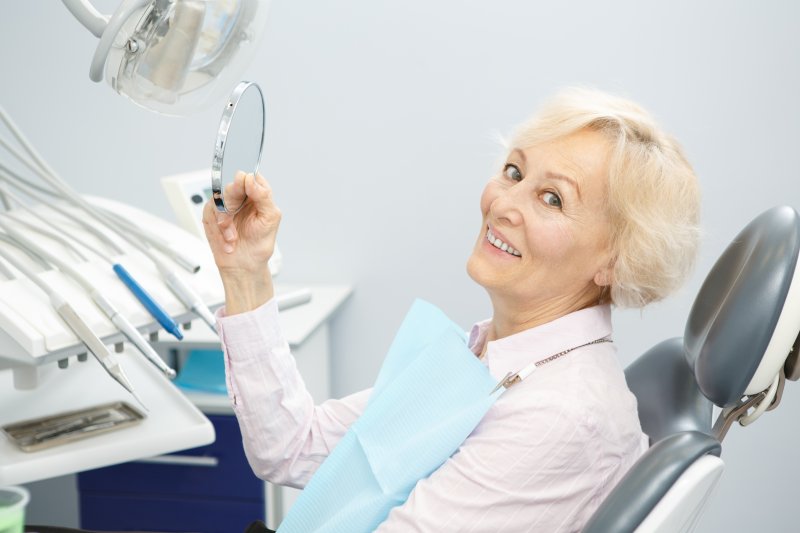 Are you using dentures as a replacement for your missing teeth? They can be lifechanging if they are fitted properly. In fact, it was predicted that 41.23 million Americans were wearing dentures in 2019. However, there are many signs that could indicate that your dentures aren't a correct fit and are instable. Fortunately, there's a solution. Continue reading to learn from your dentist about the indications that your false teeth are ill-fitting and how dental implants can help stabilize your dentures in Chesterfield.
What Are the Signs That My Dentures Don't Fit Correctly Anymore?
If you've noticed that your dentures have begun fitting a little bit different than they used to, than you're probably right. Your dentures could become loose for many different reasons. A lot of the time, it is because of a process called "bone reabsorption." This is when the jawbone shrinks because it is no longer being stimulated by your natural teeth. Here are a few signs that your dentures do not fit properly:
They have become uncomfortable
You have difficulty when speaking
You have difficulty when eating
They are moving around
Clicking noises when eating or talking
Pain in the gums
Bleeding of the gums
Bad breath and strange taste from trapped food debris and bacteria beneath the denture
If you have any of these signs, it's worth it to go to your dentist to have your dentures adjusted, replaced, or consider dental implant supported dentures.
How Can Dental Implants in Chesterfield Resolve This Problem?
An implant-retained denture is a denture that is supported by dental implants. Implants are placed directly into the jawbone and fuse to it in a process called "osseointegration." Your denture would then be attached to the implant to hold it in place. This adds stability to the tooth replacement that is difficult to achieve with traditional dentures. There are many other benefits of this type of denture including:
Improved ability to speak
Decreased irritation of gum tissue
Easier ability to chew
Eliminates need for denture adhesives
Has a much stronger bite force over traditional dentures
Increased confidence
Stimulates the natural jawbone
Dentures have a variety of benefits for people who are missing teeth. They improve your ability to chew and even prevent side effects of missing teeth like cheek sagging. However, no one wants to be wearing ill-fitting dentures. Talk to your dentist in Chesterfield so you can get your beautiful, comfortable, and stable smile back!
About the Author
Dr. Jeff Yenzer offers a wide array of services at his practice in Chesterfield, MO. He earned his dental degree from the University of Missouri in Kansas City. Afterwards, he expanded his training in many different aspects of the field including endodontics, cosmetic dentistry, and dental implants. Dr. Yenzer offers both traditional and implant-retained dentures at his office. For more information or to schedule a consultation, visit his website or call (636) 778-3019.