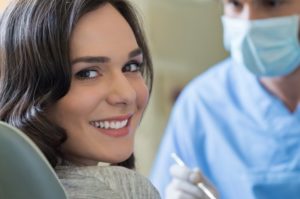 You feel like take care of your teeth well enough on your own. You're too busy. You don't particularly like visiting the dentist. There are many excuses for not seeing the dentist. But you may not realize that you put your oral health at serious risk when you skip that semiannual appointment. Check out these 4 good reasons that you should schedule and keep an appointment with your dentist in Chesterfield. Protecting your teeth and gum in the long run is worth some minor inconvenience now.
You can prevent future oral problems.
At your six-month appointments with the dentist, you get a dental cleaning. Isn't brushing and flossing on your own enough to keep your mouth clean? Even with the most diligent oral care at home, you can still get plaque buildup, especially in hard-to-reach places. Once the plaque hardens into tartar, it can only be removed using professional tools. If left there, the bacteria in the plaque can cause tooth decay or gum disease. Your dental cleaning every six months essentially wipes the slate clean for your mouth, stopping these bacteria from having a chance to harm your teeth and gums.
Your dentist can catch existing problems early.
Your appointment with the dentist is about more than just a cleaning. It is also a chance for an experienced, trusted professional to examine your teeth, gums, tongue, and mouth for any signs of more serious conditions, such as gum disease, tooth decay, and oral cancer. Through these checkups, your dentist can catch these conditions early while problems are easier to treat and overcome. If you wait to see your dentist until you notice a problem on your own, it can cause you unnecessary pain or permanent damage to your oral health. By coming to your dental checkups twice a year, you help ensure that issues don't develop that far.
You can get advice from a dental professional.
Your dental checkup is a great time to discuss your oral health with your dentist. If you have questions about your oral hygiene and care at home or any cosmetic dental procedures you're considering, you can bring these concerns up with the dentist. They can provide advice and explain what cosmetic services they offer. By taking advantage of their expertise, you can have a smile that you're proud to show off for many years to come.
You can schedule the day and time you want.
So why is it important to schedule your appointment sooner rather than later? If you're busy, as most people are, you don't like needing to go out of your way to for things like going to the dentist. Well, if you plan ahead and make your appointment early, you can make sure that you get the day and time that works best in your schedule. If you wait until the last minute, you may not get the timeslot you want.
As you take the time and effort to see the dentist on a regular basis, you'll notice a difference in your oral health now and in the future. Your mouth is worth protecting through these appointments, and your dentist can become your partner in maintaining your healthy smile. For more information about preventive dental care, checkups and cleanings, or your oral health, contact your dentist in Chesterfield.
About the Author
Dr. Jeff Yenzer started his own practice in 2014 but has about 15 years of dentistry experience. He has advanced training in endodontics, cosmetic dentistry, and implant dentistry. Whether for routine appointments or advanced procedures, he and his staff are dedicated to making going to the dentist more enjoyable for their patients. To schedule an appointment with him, you can call (636) 778-3019 or click here.