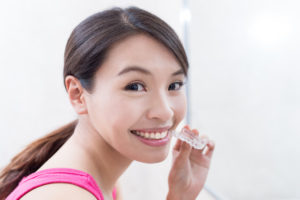 If you're considering orthodontic treatment with the Invisalign clear braces system, your general dentist in Chesterfield will likely offer this service. However, not every dental office is equipped with the technology necessary to accurately plan Invisalign treatment to shift teeth into their ideal alignment quickly and precisely. In this post, we'll review some of the technologies your dental office may utilize to reduce error and ensure successful Invisalign treatment plans to deliver flawless smiles.

Digital Dentistry to Minimize Error & Ensure Successful Treatment
Digital x-rays, images, and bite impressions allow our team to accurately plan for effective treatment with a reduced risk for human error to deliver flawless results. For best results in planning Invisalign orthodontic treatment, 3D digital x-rays should be captured. This ensures the dentist can see how the entire bite works together rather than just looking at small sections individually. These 3D images combined with digital impressions allow the dentist to precisely design your Invisalign trays to shift teeth into the ideal alignment. Each tooth and the entire bite can be viewed in accurate detail to ensure your Invisalign plan creates a flawless smile you're proud to share.
The iTero Digital Dentistry System
Possibly the most important dental technology we can use to improve Invisalign treatment and most other restorative and cosmetic dental services is the iTero digital dentistry system. This unique technology scans smiles to capture impressions of every pit, groove, and crevice of each tooth. These digital impressions are then transferred to our chairside computer system where we can utilize them to create your Invisalign treatment plan. Best of all, the iTero system allows us to design your ideal alignment and show you images of what you can expect to ensure 100% confidence before we begin treatment.
Meet Dr. Yenzer
Skilled Chesterfield dentist, Jeff Yenzer, DDS, uses the most innovative dentistry technologies in order to provide treatments that are safe, fast, effective, and comfortable for patients. That includes state-of-the-art iTero digital impressions to plan for accurate Invisalign orthodontic treatments. This fully integrated, digital design system ensures we create the most precise plan to gently shift teeth into the ideal alignment. We can make minute adjustments throughout the course of treatment to keep teeth moving according to plan. If you want to learn more about Invisalign orthodontics and other advanced treatments from the Yenzer Family Dental team, call to schedule a consultation appointment in our family-friendly Chesterfield dentistry practice.