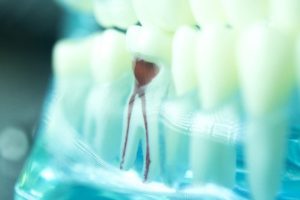 Do you have a severely damaged or infected tooth? If so, your dentist has likely recommended that you undergo an endodontic procedure known as root canal therapy. Root canals in Chesterfield are a common means to save a tooth from needing to be extracted by restoring its health. While you may be a bit hesitant to undergo the procedure, you have nothing to fear. By understanding the steps involved, you will head into your procedure feeling confident and relaxed.

Root Canal Therapy
While the American Association of Endodontics reports that more than 15 million root canals are performed each year, they are only used as a last resort when there are no other viable means to save a tooth from an extraction. Although they have a bad reputation for being painful, new advancements in dentistry make them no worse than a traditional dental filling.
After performing an initial consultation, your Chesterfield dentist will create a customized treatment plan and schedule your procedure. There will be various steps involved.
Step 1: A local anesthetic is used to numb the area and the tooth will be isolated using a rubber dam.
Step 2: A access cavity will be created using small drill to make a hole that extends from the surface of the tooth to the pulp chamber. At this time, any areas of tooth decay will also be removed.
Step 3: The tooth's length will then be measured to determine the depth of the root canals. An x-ray or an electronic measurement system will be used to establish each of the tooth's root canals for the cleaning and shaping process.
Step 4: The cleaning process will remove the nerve tissue and bacteria from the inside of the tooth. The root canals will be reshaped to make them larger to allow for the filling and sealing process. Special tools are used to accomplish this while the area will also be frequently flushed with water to keep it clean.
Step 5: After the tooth has been cleaned and shaped, it will then be sterilized and sealed using a special material known as gutta-percha.
Step 6: Impressions are taken to create a custom-made crown to be placed over the tooth to provide an added layer of protection while restoring its function and appearance.
Step 7: It will take the dental lab a couple of weeks to finish your permanent crown. While you wait, a temporary one will be placed over the tooth.
Step 8: In a couple of weeks, you will return to your dentist in Chesterfield to have the temporary crown removed and the final one bonded in place.
Save Your Tooth Today
If your dentist has recommended that you have a root canal, do not wait. Schedule your appointment today to save your tooth from an extraction.
About Dr. Jeff Yenzer
Dr. Jeff Yenzer is a trusted dentist in the community for high-quality care. He offers the necessary services to promote optimal oral health. If you need a root canal, he can help. Contact our office today to schedule your consultation.