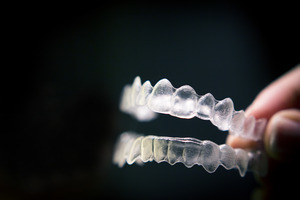 One of the first things that people notice when they put on their Invisalign aligner is how imperceptible they are. Once you slip them on, the thin plastic trays almost seem to disappear.
As incredible as that is, if you find that your trays actually disappear, it may send you into a little bit of a panic. Don't worry—it's not the end of the world to lose one of your aligners. Here's what you should do if that happens.
Step 1: Retrace Your Steps
First of all, the easiest thing would be for you to find your Invisalign aligner, so it's usually a good idea to start by retracing your steps. Try and remember the last place that you took off your aligner. If you just came from a restaurant, you might even try calling the place and seeing if anyone has found your trays.
It's surprisingly common for people to throw away their trays when they've finished eating, especially if they tend to leave their aligners on their plate or in a napkin. You might try checking there if you feel up to it.
Step 2: Call Your Dentist
If you can't find your tray, you should give your dentist a call. They'll be able to advise you on what to do next, which will depend largely on when you are due to move up to your next tray. If you only had a few days left, they may go ahead and just move you up to a tighter set of aligners, meaning that you shouldn't be at risk of falling off track.
In some cases, your dentists may recommend ordering a replacement aligner for the one that you lost. You'll wear a previous set of aligners in the meantime, which should prevent your teeth from moving out of place.
Step 3: Plan For the Future
Once you have your new aligner, it's probably a good idea to make sure that this doesn't happen again. One thing most dentists advise is getting a carrying case for your aligner, which serves as a convenient place to put them during meals. That way, they'll be much easier to keep track of.
About the Author
Dr. Jeff Yenzer believes that his patients deserve not only excellent dental care, but respect and kindness. He makes it a point to get to know his patients as individuals so that he can personalize every aspect of care to your needs. Dr. Yenzer received his degree from the University of Missouri in Kansas City, and has received a considerable amount of training since in a wide variety of dental fields.
If you have any questions about Invisalign aligners, we can be reached at our website or by phone at (636) 778-3019.