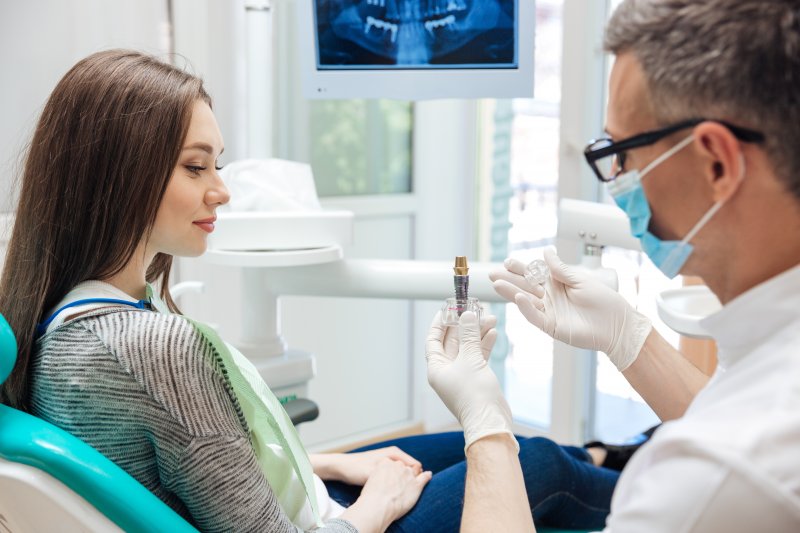 The current gold standard for teeth replacement is dental implants. Whether you're missing one, a few, or an entire arch of teeth, there's a durable, lifelike, and long-lasting implant option for you. So, how many dental implants do you need? Do you need one for each of your missing teeth? Read on to learn more about this topic.
A Quick Rundown of Dental Implant Solutions
Single dental implant – A single dental implant is a replacement for an entire missing tooth fitted with a custom-designed crown on top.
Implant-supported bridges – An implant-supported bridge has two crowns connected to dental implants on either side of your gap. The teeth missing in the middle will not receive a dental implant, but there will be a replacement tooth in its place to restore your complete smile.
Implant-retained dentures – Basically, this is a denture that isn't removable and is secured by dental implants. This is a great option if you are missing a majority or all of your teeth in an arch.
So, How Many Dental Implants Do I Need?
The number of missing teeth you have is one of the biggest factors that affects how many dental implants you will need.
For Patients Missing One Tooth
If you're missing one tooth, you will likely just get a single dental implant inserted into your jawbone. Additionally, you can use single dental implants to replace multiple missing teeth that aren't adjacent to each other.
For Patients Missing Multiple Teeth
When you have multiple missing teeth adjacent to each other, your best option may be an implant-supported bridge. That being said, it's also dependent on your specific situation. For instance, if you are missing more than three teeth in a row, you may need more implants, as a bridge typically replaces a gap of one to three teeth.
For Patients Missing All of Their Teeth
If you have lost all of your teeth on one of your dental arches, you most likely need an implant-retained denture. A permanently fixed denture is supported by four or more, sometimes six to eight, implants. There are removable implant dentures that only need two, but they are not as durable or sturdy as their fixed counterpart.
That being said, there are some additional factors that come into play, such as:
Which jaw is being treated.
Your jawbone health.
The condition of your remaining natural teeth.
The design of the implant (fixed or removable).
Your budget.
Your dentist will examine all the above factors to determine what implant treatment plan is right for you. No matter how many dental implants you need, a strong, beautiful smile is just over the horizon!
About the Author
Dr. Jeff Yenzer provides a wide array of high-quality dental services to the Chesterfield community. After graduating from dental school with honors in 2002, Dr. Yenzer continued his studies and received training in endodontics, cosmetic dentistry, and dental implants. As such, he uses state-of-the-art dental technology to precisely replace any number of missing teeth. If you want to learn more about dental implants, contact Dr. Yenzer through his website or by phone at (636) 778-3019.