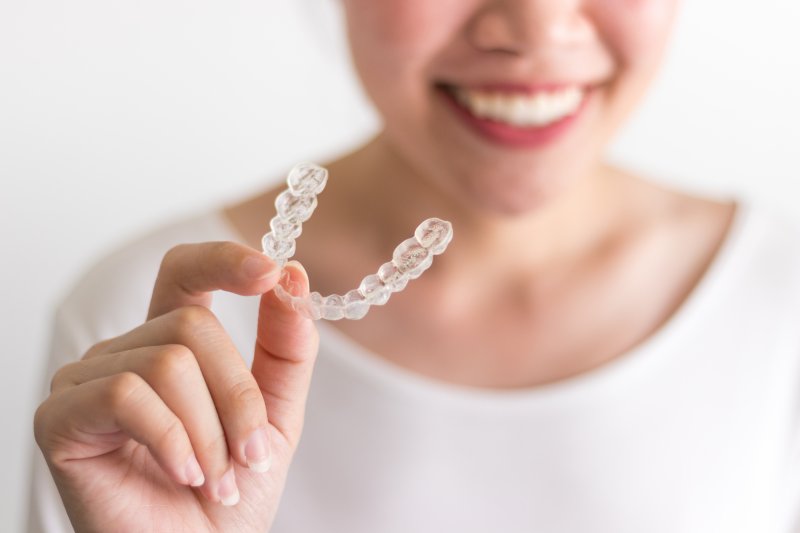 Anytime you start something new, it'll take a little bit of time to get used to, and orthodontic care is no exception. However, when you first get your Invisalign aligners, or when you get a new set of trays, you might feel like the tray just doesn't fit your mouth at all.
It could be enough to make you wonder if you need to have your aligner replaced. If you're dealing with an Invisalign tray that doesn't feel quite right, here's what you should do.
How Should an Invisalign Aligner Fit?
Your Invisalign aligner is designed to straighten your teeth by applying constant pressure in problem areas. If your aligner fits properly you should feel that pressure when you put it on; it should be a kind of "squeezing" on your teeth. However, your aligner also needs to be able to contain your teeth after they've moved, which means that there needs to be some small gaps in the tray.
How Do I Know If My Aligner Doesn't Fit?
If your aligner feels the way that was just described, it may seem to you like they don't quite fit properly. However, once you start wearing them for a while, your teeth will begin to move into place. That should fill the gaps in your trays, and reduce the tightness that you feel.
If your tray has a little bit of trouble seating properly, that can still be remedied with time. Certain companies make Invisalign chewies, which are small foam tubes designed to be chewed upon. When you use them, your aligner will be pressed tighter onto your teeth, which increases their effectiveness.
If you wear your aligners 20-22 hours a day for several days, making use of chewies when appropriate, and still find that your aligner doesn't fit properly, then there may actually be something wrong with your aligner. Moreover, if you find that your aligner rubs uncomfortably against your gums/palette, that could also be an issue that should be addressed.
What To Do if Your Aligner Doesn't Fit
If your aligner is overly uncomfortable, or if it isn't functioning properly, you should let your dentist know. If your aligner needs to be trimmed or adjusted they may be able to do that in-house, but if it really doesn't fit, your dentist may have your aligner replaced.
About the Author
Dr. Jeff Yenzer is a dentist who believes that his patients deserve not only the highest quality of dental care, but also kindness and respect every step of the way. That philosophy is how he has earned the trust of hundreds of patients over the years. Dr. Yenzer earned his doctorate from the University of Missouri in Kansas City, and he has since received training in endodontics, cosmetic dentistry, and dental implants.
If you have any questions about Invisalign aligners, he can be reached at his website or by phone at (636) 778-3019.