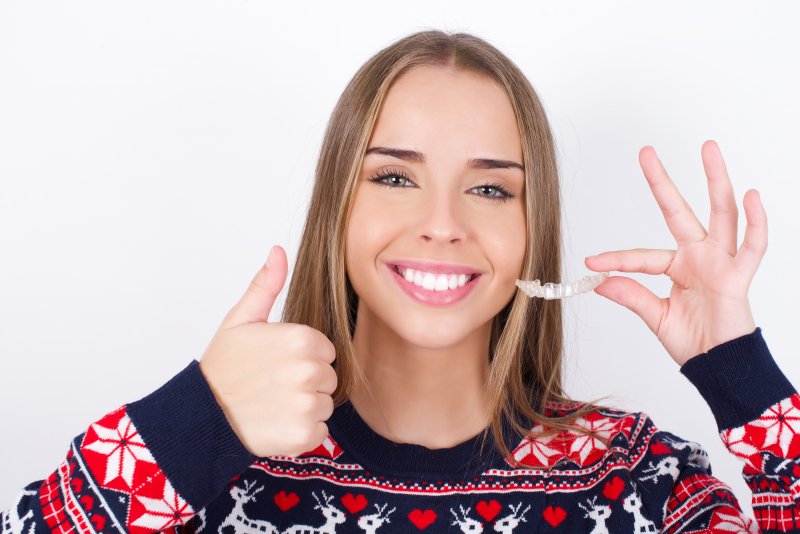 With the holidays just around the corner, you're likely excited about watching Christmas movies and spending quality time with loved ones. One of the main highlights of the festive season is chowing down on all your favorite staple meals. However, this can be challenging if you're undergoing Invisalign treatment. Keep reading to learn four tips for staying on track with your orthodontic process during the holidays!
Remove Your Aligners Before Eating or Drinking
While it can be tempting to simply sip on hot chocolate or eggnog while wearing your clear aligners, you should refrain from this at all costs. Not only can drinks (other than pure water) stain your Invisalign braces, but those at an extreme temperature can also warp their structure. This can make them ineffective, interfere with your straightening process, and lead to you having to spend more time and money on your treatment. You also shouldn't eat anything with your aligners on, as this can easily chip or damage them. Don't forget to remove them right before enjoying a meal.
Brush & Floss After Your Meals
Implementing solid oral hygiene is crucial for preserving your pearly whites, especially while undergoing Invisalign. Every time you finish a meal, you'll need to brush and floss your teeth afterward. This will ensure no food particles are stuck in your smile before wearing your aligners again. You'll also want to rinse and brush your clear trays, that way you can keep your teeth clean and bacteria-free throughout your treatment process.
Wear Your Aligners for 20-22 Hours Every Day
For Invisalign to work, you have to keep your aligners on for 20-22 hours each day. This leaves little room for you to eat your meals and clean your clear trays before continuing the process again. Since the holiday season is packed with delicious foods and snacks, it can be easy to forget your treatment wear time. To avoid any discomfort or setbacks to your Invisalign timeframe, try setting a timer or alarm on your phone to notify you when you need to put your aligners back on.
Always Bring Your Storage Case
Some people tend to place their clear aligners on a napkin or table while they eat. While this may not seem like a big deal at first, this habit can lead you to accidentally misplace, damage, or toss them in the trash. If you don't want to spend unnecessary time catching up from any delays in your treatment, you should always carry your protective storage case wherever you go.
Remember to stay on track with your Invisalign process during the festive season. Keep these few tips in mind, and you can enjoy the holidays while straightening your pearly whites on time!
About the Author
Dr. Jeff Yenzer received his dental degree from the University of Missouri in Kansas City. He also regularly pursues continuing education to refine his skills and expertise. He provides a wide variety of advanced services, including Invisalign. If you'd like to know more tips on surviving the holidays with Invisalign, visit his website or call 636-778-3019.