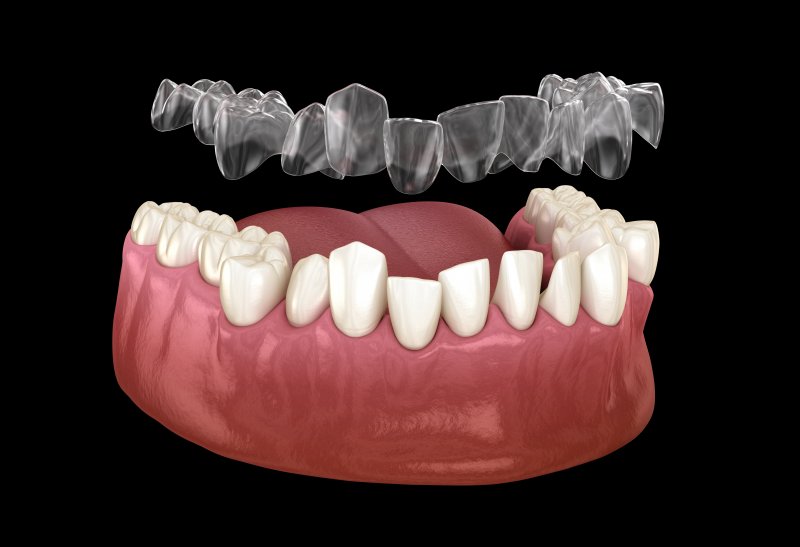 In most cases, patients start an Invisalign treatment to straighten their teeth. After all, a crooked smile isn't a very charming sight. However, did you know that it can also fix various bite problems? Indeed, aligning trays can solve overbites and other bite-related issues. To prove it, let your local Chesterfield dentist explain the matter. Read on to learn how Invisalign treats bite misalignment issues.
What Bites Can Invisalign Fix Easily?
You see, some bite problems are a "slam dunk" and easily fixed with Invisalign. In particular, patients with "healthy bites" and minor crowding or spacing are quick to treat. Their results also tend to look fantastic!
As it turns out, overbites are also included in those "slam dunk" bite issues. They stand for the most common bite problem among all age groups, which makes sense.
So, How *Does* Invisalign Correct Overbites?
How Invisalign fixes an overbite depends on a few factors. Often enough, it'll tailor its approach based on a patient's age, the severity of their issue, and how well they handle treatment.
Young Patients
If a patient is twelve or younger, Invisalign can correct an overbite by using the patient's growth.
In these cases, a dentist would apply an Invisalign Mandibular Advancement. The latter uses plastic wings on the aligners to move the lower jaw forward over time. In doing so, it directs a child's tooth growth while also straightening their teeth and aligning their jaw.
Teenage or Adult Patients
Patients can't rely on mandibular advancement if they're over thirteen years old. What *can* be used, though, are special elastics for Invisalign aligners.
Said elastics are like the ones worn with braces. They move the bottom teeth forward while moving the top teeth back.
What About Other Bite Problems?
Of course, Invisalign can handle more than just overbites. In fact, it can fix most bite problems a patient might face, including open bites, underbites, and even crossbites.
Depending on the misalignment, treatment might involve extra appliances. These items could be elastics (like those above) or some other tool.
Whatever the bite issue, a dentist can only plan their response after seeing your unique case. Based on earlier experience, they can prescribe the best-customized treatment to correct your bite.
About the Author
Dr. Jeff Yenzer is a dentist based in Chesterfield, MO, having earned his dental degree from the University of Missouri in Kansas City. He has a deep and abiding passion for personalized dentistry! As such, he offers high-quality preventive, cosmetic, and restorative treatments, including emergency procedures. Plus, you can count on him to help patients of all ages. Dr. Yenzer currently practices at his self-titled clinic and is reachable on his website or by phone at (636)-778-3019.