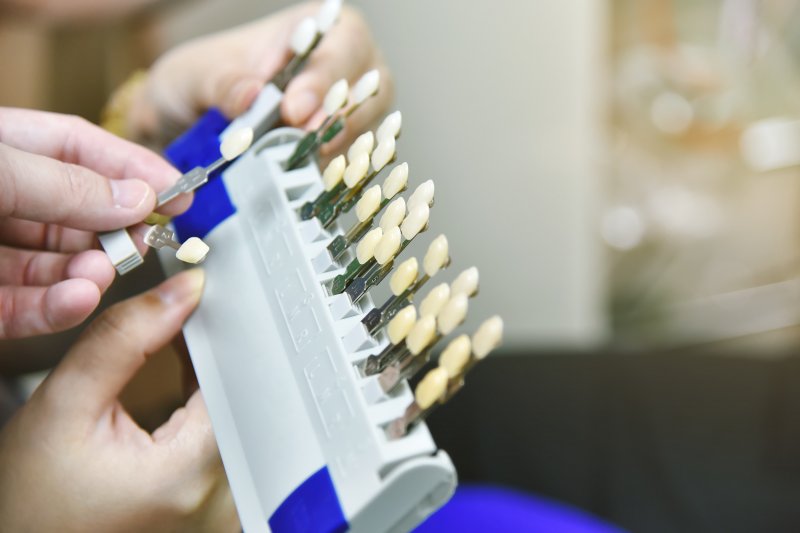 Designing crowns that are the same color as your teeth might sound simple at first, but it can actually be quite a tricky process. Every person's smile has a specific shade, and great care needs to be taken to ensure that the final restoration matches that shade as closely as possible. Here's how your dentist can combine science and art to create a dazzling dental crown in Chesterfield.
What Needs to Be Considered When Color-Matching Crowns?
When dentists talk about the appearance of teeth, they tend to refer to them as having shade rather than just color. The shade of a tooth collectively describes three different factors: hue, chroma, and value. Hue is the basic color of the tooth, chroma measures how intense or saturated said color is, and value describes whether the tooth is of a light or dark shade.
How Does Color-Matching Work?
With so many variables to consider, the easiest way to color-match is to compare the teeth to an example. Your dentist may use something called a shade guide that holds several false teeth of multiple shades arranged in a specific order. They'll hold the guide up next to your teeth and check to see which shade most closely matches your smile. Generally, your dentist will look at the value of the tooth first before narrowing down the hue or the chroma.
It's important that color-matching be done in natural light conditions or under fluorescent lights; incandescent lights are somewhat yellow and can slightly change the appearance of your teeth, which can throw off the results. Also, makeup and lipstick can affect the perception of the teeth, so you may be asked to remove it before color-matching.
In some cases, your dentist in Chesterfield may ask you whether you agree with the results of color-matching, or they might get a second opinion from a colleague; after all, everyone's color perception is slightly different, so getting more than one eye on the situation can improve the accuracy of the results. Another option is to use a spectrometer that can give its own interpretation of the color of teeth.
What Happens After Color-Matching?
After noting the shade of your teeth and taking photos of your smile to serve as a visual aid, your dentist will send the results to the dental laboratory responsible for making your dental crown in Chesterfield. The experts at the lab will create a personalized crown that matches the given shade, then send it to your dentist's practice so that it can be placed. If there's a problem with the color, the crown will be sent back so that another attempt can be made.
When a crown has been properly color-matched by an expert, it's almost impossible to tell it apart from the natural teeth. Your smile deserves only the very best results, so if you have any questions or concerns about the color-matching process, don't be afraid to speak up and tell your dentist.
About the Author
Dr. Jeff Yenzer believes that treating every patient with kindness and respect is an important part of dentistry; he firmly believes in helping others and treating them the way he would want to be treated. As such, he always strives to provide his patients at Yenzer Family Dental of Chesterfield with the quality care they deserve. When placing dental crowns, he always goes the extra mile to make sure that the restoration has been color-matched to the natural smile as closely as possible. To schedule an appointment to discuss your dental crowns, visit our website or call (636) 778-3019.