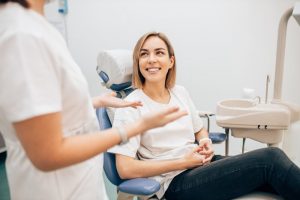 It should come as no surprise that dental insurance is a great way to save money while keeping your smile healthy. What may be surprising, though, is that unless you take full advantage of your insurance benefits, you're not saving nearly as much money as you could be. Luckily, this is simple if you keep a few tips in mind. Read on as a dentist in Chesterfield, MO reveals three easy ways to maximize dental insurance benefits.
1. Make the Most of Your Preventive Coverage
Virtually every dental insurance policy covers 90-100% of the cost of preventive care. This includes basics like routine exams, cleanings, and oral cancer screenings. These services focus on diagnosing and treating oral health issues in their earliest stages or even avoiding them altogether.
Since your insurance most likely covers two dental checkups per year, it's in your best interest to attend both of them. Not only are these visits usually covered in full, but they can save you money down the road. For example, your dentist might detect a tiny cavity that only needs a small filling. If you were to wait until the tooth started hurting to seek treatment, you might end up needing a dental crown, root canal, or some other procedure that is more expensive than a checkup and filling.
2. Remember the 100-80-50 Rule
As a general rule, the more extensive a dental procedure is, the less coverage your insurance company will provide. Of course, every policy is slightly different, but they tend to follow the 100-80-50 framework of covering various types of treatments. That framework tends to look like this:
90-100% of preventive care (cleanings, checkups, X-rays, etc.).
70-80% of minor treatments (fillings, gum disease therapy, etc.).
40-50% of major procedures (dental crowns, root canals, etc.).
3. Don't Squander Your Annual Maximum
After you've paid a small amount of money out-of-pocket – called your deductible – your insurance company will start paying for your dental care up to a certain point (based on the 100-80-50 rule). This amount – known as your annual maximum – usually resets when one year ends and the next one begins. Fewer than three percent of Americans with dental plans use all of their annual maximum. If you're in the majority, you'll probably end up losing coverage you could have put toward your smile. To prevent your annual maximum from going to waste, make sure to get any necessary treatments, such as fillings or crowns, scheduled before the end of 2021. That way, you can start off 2022 with a healthier smile and a heavier wallet!
Dental insurance is an investment, so you should use it wisely if you want to get the most out of it. If you still have questions about how to maximize your dental benefits, feel free to call your dentist in Chesterfield!
About the Author
Born and raised in St. Louis, Dr. Jeff Yenzer earned his dental degree in 2002 from the University of Missouri in Kansas City. At Yenzer Family Dental of Chesterfield, he strives to make his care affordable for patients. To that end, he is an in-network provider for many popular insurance companies, including Guardian and Delta Dental. To learn more about maximizing your dental insurance benefits, call Dr. Yenzer's office at 636-778-3019.