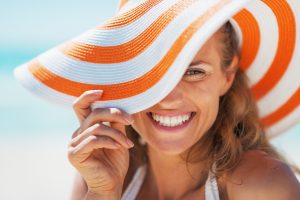 The summer months are often filled with barbecues, concerts, and other fun-filled activities with family and friends. These days, many people like to capture memories as they're happening and immediately post photos and videos to social media. However, if you feel self-conscious about the way your teeth look, you may dread when someone whips out their phone and starts snapping photos. If you want to enjoy a stress-free summer, a cosmetic dentist in Chesterfield can help! Here are 3 popular cosmetic dental treatments that can transform your smile and help you regain your self-confidence.
Professional Teeth Whitening
You may need your daily cup of joe to wake up in the morning, but coffee can also stain your teeth over time. Fortunately, professional teeth whitening can transform your looks in just a single visit to your dentist. In fact, the patented GLO Whitening system delivers stunning results in 30 minutes or less! If you prefer to brighten your smile gradually, ask your dentist about at-home teeth whitening kits.
Both in-office and at-home teeth whitening are much more effective than over-the-counter whitening strips. To dramatically boost the appearance of your smile, partner with a cosmetic dentist near you.
Direct Dental Bonding
Minor dental flaws like chips and cracks can have a major effect on your self-confidence. Direct dental bonding, however, can make most dental imperfections completely disappear. During bonding treatment, your cosmetic dentist in Chesterfield will apply a natural-colored composite resin to your tooth. They will then sculpt the resin to improve the tooth's shape, size, or even color. Direct dental bonding does not require any significant preparation and can usually be completed in about one hour.  
Other advantages of bonding treatment include:
Pain-free procedure
Immediate results
Preserves natural enamel
Results last 10+ years with proper care
Invisalign Clear Braces
If your teeth are badly misaligned, you may benefit from orthodontic treatment. Thanks to Invisalign in Chesterfield, you do not have to compromise your appearance to achieve a straight smile.
Instead of unsightly metal brackets and wires, Invisalign uses a series of clear plastic aligners to gradually shift teeth into the desired position. Invisalign aligners are custom-designed to fit snugly around your teeth and can easily be removed to eat or for cleaning.
While every case is different, most patients can realign crowded teeth or fix other orthodontic issues with 12 to 18 months of Invisalign treatment. This is significantly faster than conventional metal braces!
In the end, the right cosmetic treatment for you will depend on your unique smile goals. To start your summer on a positive note, talk to your cosmetic dentist in Chesterfield today!
About the Author
Dr. Jeff Yenzer has over 15 years of experience rejuvenating smiles through cosmetic dentistry. The proud Missouri native routinely performs veneer treatment, dental bonding, teeth whitening, and more and his conveniently located private practice. To learn more about how cosmetic dentistry can transform your smile, visit the Yenzer Family Dental of Chesterfield website or call 636-778-3019.