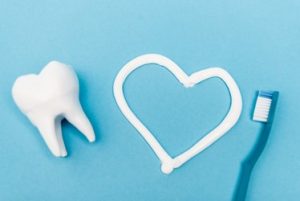 Protecting your heart has two meanings this month. February is known for the celebration of love, but it is also Heart Health Month! Studies show that poor oral health can have negative effects on your heart and your entire body! Keep reading to find out how your dental hygiene is connected to your heart's health and what you can do to help keep serious heart conditions at bay.
Connecting Oral Health to Heart Disease
After more than 10 years of research, studies have found the connection between gum disease and heart conditions. Certain strains of bacteria that are commonly found in mouths with periodontitis are able to travel through the bloodstream, reaching the heart and other organs. Streptococcus sanguis is one of those strains. According to the CDC, periodontitis, or gum disease, is one of the most serious and most common oral issues today. Periodontitis is an infection of the gums that creates puss-filled pockets along the gum line and can lead to tooth loss and deterioration of the jawbone. Once infection makes its way to the bloodstream, it can spread infection to the heart and even the brain!
Heart Damage Caused by Oral Infections
When your gums bleed, bacteria from an oral infection can enter your bloodstream and infect different parts of the heart, including the heart valves and the interior surfaces of the heart or cause the blood vessels to become inflamed. When someone is diagnosed with coronary artery disease or infective endocarditis it is very positive that they developed these conditions from a dental infection. Heart disease is the result of cholesterol deposits blocking the arteries reduce the flow of blood to the heart, and infective endocarditis is an infection in the heart valves or the lining of the endocardium.
Reduce Your Risk
Though you can't always avoid heart problems, there are steps you can take to help reduce your risk. Kicking a nicotine habit is an excellent start. Nicotine use slows the blood flow to your gums and lowers your mouth's ability to fight infection, making it easier to develop gum disease, abscesses and other dental infections. Another way to reduce your risk is to pay attention to your dental routine. Most dentists recommend flossing before you brush and brushing your teeth two minutes. Following this routine twice a day and your dentist at least twice a year Doing this twice a day will help minimize the number of infectious bacteria in your mouth and lower your chances of dealing with heart health issues.
A healthy diet and exercise are important to your heart health, but your oral health can also affect your overall health. Practicing proper dental hygiene is a great way to show both your heart and mouth some love this month!
About the Author
Dr. Jeff Yenzer is dedicated to providing every patient who enters his office personalized, high-quality dental care in a comfortable environment. He earned his dental degree with honors from the University of Missouri at Kansas City School of Dentistry. Dr. Yenzer offers a wide range of services that include preventive dentistry, restorative dentistry and more. If you're ready to get your dental health back on track, visit the website or contact the office at (636) 778-3019 to schedule an appointment today!