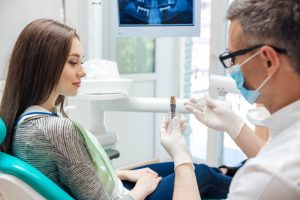 If you find yourself in need of replacing one or more of your teeth, you have a lot to consider. Missing teeth not only affect the way your smile looks, but they can also cause other oral issues such as gum disease, jawbone deterioration, and change your overall facial structure. Your Chesterfield dentist knows you have plenty of options when it comes to tooth replacement, but the cosmetic benefits of dental implants make them a popular choice. Keep reading to learn more.
The Cosmetic Benefits of Dental Implants
If you've ever lived with missing teeth, you already know that it can cause difficulty speaking and chewing, but it also leaves unattractive gaps in your smile. Since they were first invented, dental implants have come a long way, and here are a few reasons why they're the best option when it comes to tooth replacement and the aesthetics of your smile:
Jawbone Strengthening
While teeth can't regrow themselves, the jawbone that holds them in place is able to repair and generate further bone growth. This is what makes dental implants possible. When inserted into the jawbone, the goal is for them to fuse to the bone, and over time, they actually promote new growth. Without teeth to hold in place, the jawbone will eventually start to deteriorate and negatively affect the overall facial structure.
Gum Healing
Your gums are responsible for holding your teeth in place, but also for protecting the soft tissues beneath them from bacterial infection. When a tooth goes missing and is not replaced, the tissue can become infected, which will eventually affect the surrounding gums. This can lead to gum recession and disease. As opposed to other types of prosthetics, dental implants can be placed in a delicate manner that will still allow the gums to heal around them, keeping them healthy.
Better Design
Everyone's dental needs are unique, and you may be in a situation where you have more than one tooth missing, but in different areas of your mouth. Unlike bridges or dentures, which are meant to replace multiple teeth in a row, your dentist can place dental implants in gaps anywhere in your mouth.
It can seem overwhelming when trying to make the best decision for restorative dentistry, but don't let that stop you from having a transformed smile. Talk to your dentist about dental implants and all of the benefits they can bring you!
About the Practice
Dr. Jeff Yenzer and his team understand the difficulties that missing teeth can pose, and it is their top priority to ensure that all of their patients have the opportunity to experience the enhanced quality of life that comes from dental implants. Their years of experience and skill make them the perfect choice when it comes to receiving restorative dentistry in Chesterfield. Are you ready to enhance your smile? Schedule a consultation online or call (636) 778-3019.