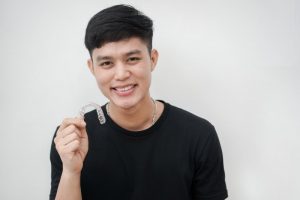 As you get older, chances are you'll find yourself with one or more dental restorations in your mouth, such as veneers, dental crowns, or dental bridges. While these treatments all serve their unique purposes, you may be wondering whether they make you ineligible for straightening your teeth with Invisalign in Chesterfield. Keep reading to find out whether you can still get Invisalign if you have crowns, bridges, or veneers.
Invisalign with Dental Crowns
If you were to get metal braces when you have dental crowns, it could present a challenge. The adhesive may not be able to fully attach to your restoration. That's why Invisalign is often the better option for patients with dental crowns in Chesterfield. These removable clear aligners don't require adhesives to attach anything to the teeth. They also don't interfere with your diet because they can simply be taken out before eating. Invisalign isn't right for everyone, but if your dentist thinks you're a good candidate, it can be a great solution for mild orthodontic issues like overbite or gapped teeth.
Invisalign with Dental Bridges
A dental bridge is fixed in place and covers two of your natural teeth. Because of this, you may not be suitable for orthodontic treatment if you have a bridge. The bridge could even be damaged if too much force is applied to it. However, you may still qualify for Invisalign if your misalignment issues are not too severe and don't affect the teeth supporting your bridge. Otherwise, you may need to have a new bridge placed after you've finished with Invisalign.
Invisalign with Veneers
It's very difficult to attach metal brackets onto veneers. Even if it is accomplished, the bracket could damage the smooth porcelain surface of the veneer, essentially defeating its purpose. If you're hoping to straighten your smile while you have veneers, Invisalign is a more ideal alternative. Veneers shouldn't affect the movement of the teeth, and because the aligners are not fixed to the surfaces of teeth, there is little risk of damage.
Many patients wait until they're finished with Invisalign treatment to receive veneers. After all, veneers are placed to make your smile look a certain way, so shifting your teeth will alter the end results. If you're prepared for these changes, however, this can be a great option.
Ask Your Dentist If Invisalign Is Right for You!
Just because you have dental restorations doesn't automatically mean you can't get Invisalign. It all depends on your unique case. The only way to find out whether you qualify for Invisalign is to call your dentist and schedule a consultation.
About the Author
Dr. Jeff Yenzer is a dentist in Chesterfield, MO with almost 20 years of experience in the field. He obtained his dental doctorate in 2002 from the University of Missouri in Kansas City. Since then, he has trained extensively in many facets of dentistry, including Invisalign and cosmetics. If you're ready to find out whether Invisalign is right for you, contact Dr. Yenzer online or call (636) 778-3019.