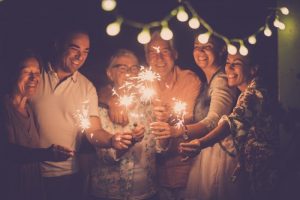 Next year is just around the corner, and if you're like many others, you're probably still working on a list of resolutions for 2021. Have you thought about adding a healthier smile to the lineup? There is never a better time than the start of a new year to begin taking better care of your teeth, and your Chesterfield dentist shares some simple and practical ways you can do it.
New Year's Resolution: A Healthier Smile
You have probably seen self-care brands use the phrase, "new year, new you" before, and it's typically during the transition from one year to another. The truth is, there has never been a better time to feel more confident about a beautiful smile than now, and here are some tips to help you prioritize your oral health next year:
Develop a Regular Oral Hygiene Routine
Most people would say they brush their teeth at least once a day, but did you know that 20% of the population only flosses when they feel something lodged in their teeth? Another 8% admitted to simply not flossing at all. No matter where you find yourself in this survey, it's never too late to pick up a good habit. Flossing daily helps to remove plaque and bacteria in hard-to-reach places where your toothbrush can't cut it. Over time, this will protect your teeth from decay and your gums from infection that could lead to disease.
Don't Forget Your Fruits and Veggies to Your Diet
You may have grown up hearing from caretakers or doctors that you need to eat plenty of fruits and vegetables in order to have a balanced diet. If you're like many other people, you may have gotten out of the habit of including these in your diet as you've gotten older. Not to worry, it's never too late! Fruits in vegetables are not only low in sugar, but they also provide your teeth and gums with the essential minerals and vitamins they need to stay healthy for the long haul.
Cut Back on the Sugar
A lot of people choose less sugar consumption as a resolution for the new year for plenty of reasons other than a healthier mouth, however, it's one of the best things you can do for your teeth. It's also important to know that sugar is not only found in candy and sweet treats. Certain alcoholic beverages, like wine and mixed drinks contain high amounts of sugar, so it's a good idea to be mindful of how much you're consuming for your teeth and overall health.
Visit Your Dentist for Regular Checkups
Last, but most certainly not least, this is one of the most important things you can do to invest in your oral health. Every time you see your dentist for a regular, they perform an oral cancer screening. They also take x-rays that allow them to identify potential issues with your jaw or gums. Catching small problems before they turn into larger ones can save you time and money. Plus, who doesn't love that squeaky clean feeling in your mouth after your dental hygienist removes all that plaque build-up your toothbrush couldn't kick.
Studies show that your smile in one of the first things someone notices when they meet you, so it just makes sense to make it a priority for next year. Make an appointment with your dentist now for the new year so you can set your smile up for success.
About the Author
Dr. Jeff Yenzer leads the team of experts at his private practice in Chesterfield. He has always been passionate about treating others the way that he wants to be treated, and he employs this practice in caring for each of his patients. It is his priority to make sure they are all provided with the knowledge and tools they need to keep their teeth healthy. Are you ready to prioritize your smile in the new year? Schedule an appointment online or call (636) 778-3019.