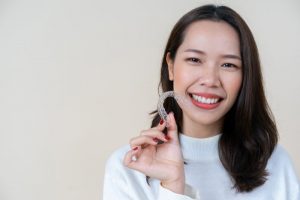 The end of this year is only a few days away, and your calendar has probably already started filling up with a myriad of plans and events for next year. If you're like most people, you live a busy life, and it can be easy to put self-care on the backburner. However, if you've been wanting to straighten your smile, now is the time! Plus, you don't have to deal with a mouthful of metal, and it's more affordable than you might think. Keep reading to learn what your experts on Invisalign in Chesterfield have to share about why you shouldn't wait any longer to begin Invisalign treatment.
Why Now is the Best Time for Invisalign
Every year, Invisalign is responsible for the transformation of millions of smiles, but most people don't take it into consideration when it comes to their dental insurance benefits.it helps transform millions of smiles, and this year, yours could be one of those. You might feel like you've missed your opportunity for 2020, but here's why there has never been a better time to talk to your dentist about Invisalign in order to maximize your benefits:
Coverage
"Is Invisalign covered by my dental insurance?" This is an extremely common question that not enough people know the answer to. It is often assumed that because Invisalign technically falls under the category of cosmetic dentistry, that it is not covered under insurance plans. This is not always the case! Over time, it has been proven that straighter teeth actually promote overall oral health and can prevent issues down the road. Many dental plans allow for at least some coverage when it comes to Invisalign, and most dental practices now offer payment plans to make treatments more affordable. Be sure to talk to your dentist about your options before writing it off.
HSA or FSA
If your dental insurance plan has a Flexible Spending or Health Savings Account that you're contributing to on a monthly basis, it only makes sense that you make use of that investment. With an FSA, the unspent dollars don't roll over, so this is one of the best ways to help pay for the cost of Invisalign.
Deductible
Your plan probably has a deductible amount that applicable treatment costs must meet before your insurance company will cover it. If you've done any research at all about Invisalign, then you know it can be costly. This makes it a great treatment to choose that can help meet the deductible so you can straighten your smile and keep more money in your pocket.
Don't let another calendar year end before taking the steps toward an enhanced smile and confidence level. Talk to your dentist now about how Invisalign can benefit you and maximize your dental insurance benefits.
About the Practice
Dr. Jeff Yenzer and his team provide superior care at his private practice in Chesterfield. He has years of experience helping patients achieve the smiles of their dreams through the gift of Invisalign. He has always been passionate about treating others the way that he wants to be treated, and he employs this practice in caring for each of his patients. Are you ready for a straighter smile? Schedule a consultation online or call (636) 778-3019.