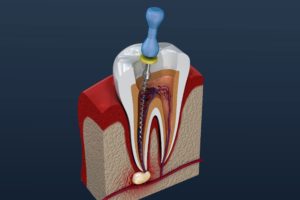 If your dentist has recommended a root canal in Chesterfield, an overwhelming sense of dread may have washed over you. You might even choose to delay the procedure because you aren't in any pain. Despite their bad reputation, you don't have anything to fear. Root canal therapy can save your tooth from an extraction, even if you aren't currently in pain. Believe it or not, a toothache isn't the only symptom of an infection. Instead, here are 5 common signs the endodontic treatment might be in your future.
Signs of Needing a Root Canal
A root canal is a restorative procedure that extracts the innermost layer of the tooth called the pulp. Although it's common, your dentist will only recommend it if there aren't any other viable options to treat it. If you have a problematic tooth, there are a few clear signs you may need a root canal:
Visible Damage
Your enamel is the strongest substance in your body; however, it isn't indestructible. You can experience chips or cracks from various causes, like sports or using your teeth as tools. Superficial defects can be treated without a root canal, but if the damage is severe, the procedure may be necessary. If the pulp is exposed, you're going to need to see your emergency dentist in Chesterfield right away for treatment.
Lingering Tooth Sensitivity
When sipping a hot cup of coffee or enjoying a cold ice cream cone on a summer day, does tooth sensitivity make you pucker your lips? Many people experience minor discomfort, but if the pain lingers, there might be a bigger problem than weakened enamel. You might have an infected tooth that's causing the sharp pain.
Your teeth naturally darken as time passes; however, if the nerve or blood vessels are damaged, your tooth can develop a grayish tint. Unfortunately, there isn't any whitening treatment to restore its color. Instead, the best solution might be a root canal and crown.
Swollen gums are often a red flag for an underlying problem, especially if a pimple-like bump appears near the root of a tooth. Sometimes, the inflammation can be caused by gum disease, but if an abscess appears, the swelling is most likely from an infection deep within the tooth.
No amount of brushing or flossing can reverse a cavity. You'll need a dental filling to treat it. If you wait too long to have it resolved, the decay can spread deeper into the tooth. Sadly, a filling will no longer be enough. You'll need a more invasive treatment, like a root canal.
If you have signs of a tooth infection, don't wait to see your dentist, even if you don't have pain. They'll save your tooth to preserve your beautiful smile.
About Dr. Jeff Yenzer
Dr. Yenzer earned his dental degree at Clemson University, where he graduated with honors. He regularly continues his education to help his patients reach optimal oral health. If you have a tooth giving you grief, contact our office today to schedule a consultation.