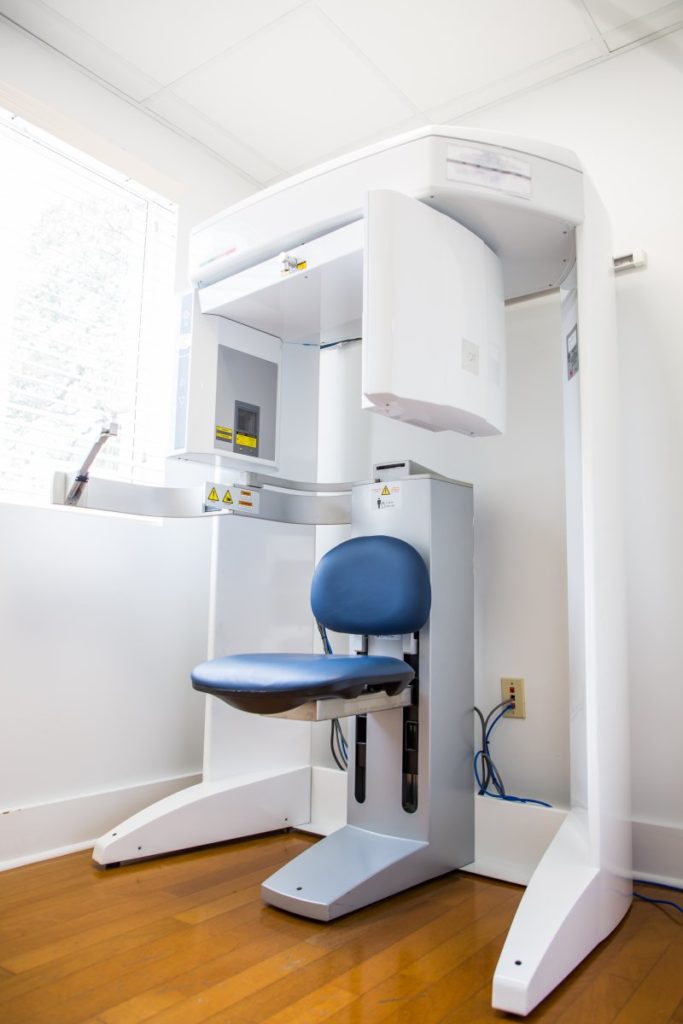 Getting dental implants in Chesterfield can change your life after tooth loss. Naturally, you'll want to take every precaution to make sure the procedure is a successful one. The first step is picking the right dentist for the job. There are many factors to consider – such as experience and location – but one aspect that absolutely cannot be overlooked is the level of technology at the practice. When it comes to dental implant placement, finding a dentist who uses a cone beam scanner could be the key to ensuring the success of the treatment!
What is a Cone Beam Scanner?
A cone beam scanner (sometimes called a CT/cone beam, or CTCB) is used to create a high-quality model of your mouth. With a traditional dental X-ray, your dentist in Chesterfield can only learn so much about the state of your oral health. The arm of a cone beam scanner will rotate around your head a full 360 degrees while taking about 150 to 200 pictures. All of these images are combined into a comprehensive three-dimensional model. In addition to showing your teeth, a cone beam scan also presents your jaw, skull, sinuses, and facial nerves in great detail.
How Does a Cone Beam Scanner Help with Dental Implants?
When it comes to oral surgery, it always pays to have as much information as possible about a patient's mouth. Dental implant surgery in particular is considered an advanced procedure that needs more planning than usual; your dentist will need a complete understanding of your oral structure so that there are no unexpected complications during the procedure. The bone density, width, height, and thickness of your jawbone all need to be measured with precision before deciding whether or not implants are a viable option in your case. Also, it's important to avoid damaging any nerves during implant surgery. A cone beam scan tells the dentist exactly where the nerves are ahead of time.
The Benefits of Successful Dental Implants
Dental implants are leagues above other forms of replacement teeth. Unlike traditional bridges or crowns, implants can directly stimulate the jawbone in order to keep it healthy and stop it from breaking down. And of course, there's also the durability and stability that comes from having titanium posts permanently integrated with your jaw. You can chew your favorite foods with confidence, and you'll never have to worry about taking your new teeth out to clean them.
You can consider dental implant surgery after losing any number of teeth. No matter how extensive the tooth loss was, you'll want to rebuild your smile using the best technology available. Schedule a consultation with your dentist today to learn about their approach to placing dental implants.
About the Author
Dr. Jeff Yenzer has always believed in the importance of helping others and treating them the way he would like to be treated. In order to bring his patients the quality care they deserve, he has trained in many facets of dentistry, including dental implants; he has also invested in a cone beam scanner and other forms of advanced dental technology. To schedule an implant consultation at his practice, Yenzer Family Dental, visit his website or call (636) 778-3019.