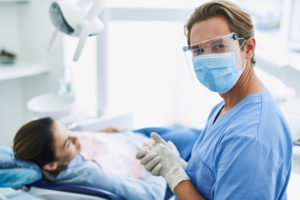 Even though you are going back out into the world after weeks of sheltering in place, maintaining proper social distance remains important to prevent the spread of COVID-19. That means trying to keep at least six feet away from people at all times. If you've scheduled an appointment with your dentist in Chesterfield, you're probably wondering: is it even possible to social distance and receive care? Surprisingly, it can be done during most parts of your dental appointment. The following article details the policies dentists are using to implement social distancing guidelines in their offices, as well as what they're doing to protect you when it's not possible.
Virtual Waiting Rooms
Instead of making patients wait in the front lobby with others, practices are now allowing you to wait in the safety of your car until your scheduled appointment time.
No More Office Tours
Prior to the pandemic, new patients were treated to a tour of the office. This practice has been temporarily paused to minimize contact between patients and staff members who aren't providing care.
Contactless Greetings
Dental teams are very happy to see their patients again, but they can't show it like they used to. Instead of using hugs and handshakes, they'll be using more fun greetings that don't require physical contact. Don't be surprised if you see your dentist waving or bowing when you arrive.
Less Patients Per Day
The easiest way to uphold social distancing in the office is to simply have less people inside it. Your dentist is going to be seeing fewer patients so that you don't accidentally run into anyone during your appointment.
The Updated Treatment Experience
To treat your mouth, your dental team needs to get close to it. Unfortunately, this means that they can't meet social distancing guidelines. To compensate, they are using additional safety precautions, which include:
Washing their hands in a hospital grade hand sanitizing station before and after each appointment.
Wearing N95 masks, face shields, and disposable coverings over their clothes while carrying out treatments.
Sterilizing their instruments using CDC approved procedures.
Teledentistry
Dentists are now offering services like follow-up appointments and consultations for cosmetic procedures entirely over the internet. This practice is known as teledentistry, and it allows you to avoid having to make a trip to your dentist's office. Using your webcam or phone camera, your dentist can examine your mouth remotely. They can then make a recommendation as to whether or not you need to come in for care.
Social distancing is going to be a part of your life for a while. However, it shouldn't stop you from keeping your teeth and gums healthy. At every stage of the treatment process, your dentist is going to take the necessary precautions to keep you safe from COVID-19.
About the Author
Dr. Jeff Yenzer knows that quality dental work is impossible to provide if patients aren't protected from germs. He and his team have added 25 new safety procedures to their practice to prevent viral particles from reaching patients. If you would like to learn more about these procedures, you can contact him through his website or at 636-778-3019.