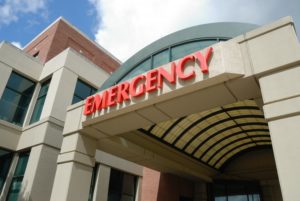 Do you know where to go to get treatment for a knocked-out tooth? Recent studies show that many people spend unnecessary time and money going to the ER for dental emergencies instead of their dentist. However, in light of the COVID-19 pandemic, it's more important than ever to know where to turn for serious issues with your smile. Read on to find out when and why you should call your Chesterfield emergency dentist instead of going straight to the ER.
Why Should I Call My Dentist First?
Acting quickly and correctly during a dental emergency can make all the difference in saving your smile, but that doesn't mean you should rush off to your local ER. Advantages of calling your dentist before going to your local emergency room include:
You are less likely to get sick: ER staff and dental practices are both working tirelessly to ensure that you enter a clean, healthy environment when you come in for treatment. However, since fewer people will be visiting your dentist's office than the ER, you're much less likely to encounter a potentially sick and contagious person there.
You will probably spend less time waiting: While ERs are a catch-all for emergency medical situations, your dentist will only be treating issues that have to do with your mouth. Since they'll be seeing fewer patients, it's likely that your dentist will be able to treat you much sooner than a busy doctor at an ER can.
You won't be contributing to overcrowded ERs: COVID-19 is extremely infectious, and it can become a serious, life-threatening situation that requires immediate care for some people. Currently, health care workers around the world are overwhelmed with serious COVID-19 cases and other commonplace health emergencies. Taking your dental emergency to a dentist frees up the valuable time and effort of medical staff who could be treating these patients.
You can get the specialized dental care you need: Emergency rooms are not always equipped to perform emergency dental care like root canals or tooth extractions. Your Chesterfield dentist is specially trained to handle and repair damaged, infected, or knocked out teeth and has the means to do so quickly and comfortably.
When Should I Call My Emergency Dentist?
Unless you are having trouble breathing or swallowing, you should call your emergency dentist for:
Chipped, cracked, or broken teeth.
Uncontrollable bleeding from the gums or soft tissue.
A knocked-out or partially dislodged permanent tooth.
A severe toothache.
Fever, fatigue, swelling in the face, jaw, or neck, or other signs of infection.
Hopefully, you won't experience a dental emergency during or after quarantine. However, knowing when to skip the ER and call your dentist instead is an important part of keeping your smile happy and healthy.
About the Author
Our team at Yenzer Family Dental is dedicated to providing the smiles of Chesterfield, MO with easy, efficient, and comfortable dental care. Dr. Jeff Yenzer has always gone above and beyond for the health and safety of his patients. In light of the COVID-19 pandemic, he upholds this commitment by continuing to provide quick and effective emergency dental care in a thoroughly cleaned and germ-free environment. If you or a loved one is experiencing a dental emergency, please don't hesitate to contact him via his website or at (636) 778-3019.