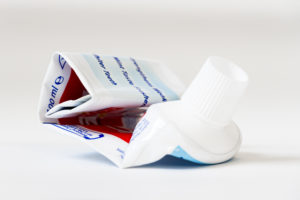 Social distancing and staying at home are the best ways to keep yourself and your family safe from the COVID-19 pandemic. The last thing you need while you're trying to avoid crowded places is to run out of toothpaste! Thankfully, there are a few easy ways you can extend the lifespans of the toothpaste, floss, and mouthwash you already have at home. Skip a trip to the store with the help of these tips from your Chesterfield dentist on how to make your dental products last throughout quarantine.
Tips for Saving Toothpaste
Many toothpaste advertisements insinuate that we need to use much more than what is actually recommended. According to the American Dental Association, the best way to keep your smile clean, healthy, and strong is to use:
A dab of fluoridated toothpaste the size of a pea for anyone over the age of six years old.
A pea-sized drop of children's low-fluoride toothpaste for children between three and six years old.
A smear of children's low-fluoride toothpaste the size of a grain of rice for children between two and three years old.
If you run out of toothpaste, you can make a paste of water and baking soda as a temporary substitute. While this mixture will help keep plaque away and remove surface stains, overuse can lead to sensitive and weakened teeth. Continue using a fluoridated toothpaste as soon as you can.
Measuring Your Mouthwash
Mouthwash is a highly effective tool against bad breath and oral infections. To help it last, make sure to:
Carefully read the instructions printed on the label and only use as much as directed, typically between three and five teaspoons.
Adding salt, tea tree oil, or aloe vera leaves to a glass of water creates a homemade rinse that can help you fight off gum disease, clean out cuts in the mouth, and ease toothaches.
Flossing Rules to Follow
The truth is, you're probably not using enough floss in your daily dental routine. Health experts report that you should use a new, 18-inch string of floss every session. While flossing in quarantine:
Never reuse a length of floss, even after rinsing it off, to prevent redepositing previously removed plaque, bacteria, and food particles.
For a longer-lasting alternative, consider trying reusable interdental brushes or pre-threaded flossers with replaceable heads.
Don't leave quarantine with a toothache and searching for a "dentist near me." Keep yourself and your smile happy, healthy, and safe by conserving your dental products!
About the Author
Dr. Jeff Yenzer and his talented team at Yenzer Family Dental have always believed that excellent at-home oral hygiene is the firm foundation of a healthy, beautiful smile. For over a decade, he has been providing the smiles of Chesterfield, MO with the comfortable and effective dental care they deserve. In these unprecedented times, he encourages his patients to follow recommendations laid out by the Centers of Disease Control and Prevention as well as Chesterfield Mayor Bob Nation to stay safe an healthy. If you or a loved one is experiencing a dental emergency, please don't hesitate to contact him via his website or at (636) 778-3019.