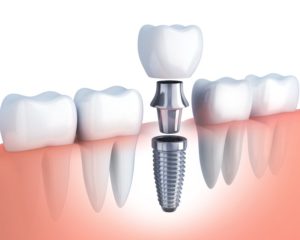 Losing a permanent tooth can be an overwhelming experience, especially with so many different tooth replacement options available! However, dental experts agree that one stands above the rest: dental implants. You may have heard that this restoration process leaves you with a permanent, functional, and comfortable new tooth, but how are they different than dental bridges or dentures? Your Chesterfield dentist takes a closer look at the three main parts of a dental implant to demonstrate why it's the ideal option for restoring your smile.
The Implant
One of the key advantages of dental implants is that they replace a tooth both above and below the gumline. This prevents bone loss in the jaw while providing reliable durability. To recreate the missing tooth's roots, a small titanium post is placed into the jawbone. This part is referred to as the implant.
Almost all implants are made of titanium, since this unique metal is biocompatible and easily accepted by the body. Over several months, the implant will fuse with the surrounding bone tissue in a process known as osteointegration to hold it firmly in place. Replacing the roots is what gives your new tooth all the stability, biting power, and comfort of a natural one.
The Abutment
Typically, the abutment will look like a tiny tree stump resting on top of the implant just at the gumline. Sometimes it's placed at the same time as the implant, and other times it's placed once the implant has merged with the jawbone. This small connecting piece is what attaches the restoration to the implant and permanently secures it in place.
The Restoration
Sitting proudly atop the abutment and seamlessly in line with the rest of your teeth is the restoration. This tooth-shaped part of a dental implant is custom-made and shaded to look just like a natural tooth. In fact, modern restorations are so lifelike that most people will have a difficult time distinguishing them from the rest of your beautiful smile! Thanks to the solid foundation provided by the abutment and implant, you'll never have to worry about it coming loose, slipping, or popping out of place as you go about your daily life.
How many teeth you're replacing will determine what type of restoration you'll need. If you're only missing one tooth, a single dental crown is all that's needed to complete your smile. Several gaps in your smile can be filled with a bridge of new teeth that are help in place by one or two implants. Dental implants can even be used to replace an entire arch of missing teeth with the help of implant-retained dentures. No matter how many you're missing, dental implants can allow you to enjoy a complete set of pearly whites once again!
Thanks to all these unique parts, dental implants can restore your smile in a way that other tooth replacement options can't. If you're looking to replace your missing teeth with the next best thing, talk to your Chesterfield dentist to see if dental implants are right for you!
About the Author
Yenzer Family Dental is dedicated to helping the smiles of Chesterfield, MO and the surrounding communities stay happy, healthy, and beautiful. Dr. Jeff Yenzer has been practicing dentistry in Chesterfield for well over a decade and has completed specialized training in implant dentistry. Using state-of-the-art-technology and advanced practices, he and his team can rebuild your confident smile with dental implants. If you have more questions about this modern tooth replacement option, feel free to contact him via his website or at (636) 778-3019.