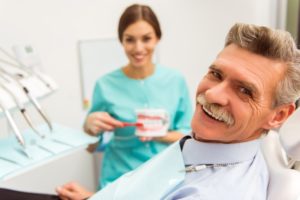 If you're looking to fill in those gaps in your smile, dental implants in Chesterfield are the next best thing to natural teeth! They're designed to replace missing teeth both above and below your gumline, providing a durable, reliable, and permanent improvement to both your appearance and oral health. However, this optimal tooth replacement option isn't right for everyone. Read on to discover what four important factors make an ideal candidate for dental implants.
Healthy Gums
Healthy gums are essential to a successful dental implant. Periodontal disease, or a bacterial infection in the gum tissue, causes the gums to pull away from the teeth, which would expose the "root" of the dental implant. If left untreated, this common oral health issue may also begin to attack and weaken the jawbone underneath until it can no longer support the dental implant. Thankfully, once your gums are treated with periodontal therapy and the infection is eliminated, you'll be ready for your brand-new smile.
Adequate Jawbone Density
To anchor your dental implants in place, small titanium posts are surgically inserted into your jawbone. Once they fuse with the surrounding bone tissue in a process called osteointegration, they become a rock-solid and long-lasting addition to your smile. However, the dental implant may become loose in your jawbone and fail if you have low bone density. In some cases, your dentist may be able to perform a bone graft to strengthen your jawbone enough to support your new tooth.
Great Oral Hygiene and Healthy Habits
It's important to keep the dental implant site clean throughout the healing process. Issues like cavities, tartar buildup, and oral infections all increase the number of bacteria in your mouth, which greatly boost your risk of infection. Additionally, poor lifestyle choices like using tobacco products and drinking alcohol excessively hamper the body's natural healing process and cause complications for the success of your dental implant. Your dentist will carefully inspect your mouth and medical history to determine if dental implants are right for you.
Plenty of Patience
Unfortunately, dental implants can't restore your smile overnight. Fully replacing missing teeth with dental implants is a multi-stage process that can take anywhere from 4-12 months to complete. Throughout this timeframe, it's essential that patients are committed to keeping a healthy lifestyle. It's crucial that you practice excellent oral hygiene every day and refrain from unhealthy habits like smoking and drinking alcohol for the success of your new tooth. Remember, although the dental implant process may take several months, the results are likely to last a lifetime.
Fortunately, most anyone who is missing one or more teeth is a good candidate for dental implants. Talk to your Chesterfield dentist today to discover if this modern tooth replacement option is best for you and your smile.
About the Author
At Yenzer Family Dental in Chesterfield, MO, we understand that losing a tooth can be an overwhelming experience. That's why Dr. Jeff Yenzer offers the best solution for both your smile and your oral health: dental implants. Thanks to his advanced training in implant dentistry, he can personally perform every step of the dental implant process to ensure that you receive the most comfortable, efficient, and seamless results possible. If you are interested in restoring your smile with dental implants, feel free to contact him via his website or at (636) 778-3019.