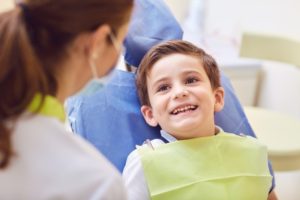 The observance of February as National Children's Dental Health Month is about more than just encouraging kids to brush and floss their teeth. It's also designed to raise awareness about how interconnected oral and overall health are. The goal of your children's dentist in Chesterfield, then, is to help children get off to the healthiest start possible in life, so that their future will be much brighter. As you continue reading, you'll learn ways to boost your children's dental wellness!
The Connection Between Oral and Overall Health
The mouth could very well be considered as a window into the health of the rest of the body. Thus, if your kids' dental health is neglected, it could leave them more susceptible to plaque development, which can eventually translate into health issues in other parts of their body.
This is more than speculation, as studies show that poor dental health can have both physical and psychological effects on children. For starters, kids who aren't introduced to proper dental care habits are susceptible to developing gum disease. The condition can then leave them more vulnerable to premature hypertension and heart disease, and poor self-esteem that can inhibit their ability to have healthy social interactions.
How to Fight Back
One of the great things about introducing proper habits early is that children's minds are like sponges, able to soak-up information so they can set positive habits for the future. Here are some helpful ideas that will yield immediate and long-term benefits:
Encourage twice daily tooth brushing and flossing to rid the mouth of excessive oral bacteria.
Limit the consumption of processed foods and snacks that are high in sugar, as it's the primary food for oral bacteria.
Make oral hygiene fun by rewarding your children for compliance with periodic gifts or other means of encouragement.
How Your Dentist Can Help
In addition to taking the appropriate steps at home, it's comforting to know that you have a trusted and trained ally ready to support you: your dentist in Chesterfield. By having your children receive dental care early on, it helps to ingrain a positive habit that will carry-over into their adult lives. It also aids in removing the fear-barrier that some kids can have about visiting the dentist.
Furthermore, you'll be provided with the peace-of-mind of knowing that not only are their teeth and gums being fortified, but that they're forming a sound foundation for excellent total wellness in the future. By taking action this February, your hopes can become a reality!
About the Author
Dr. Jeff Yenzer is a graduate of the University of Missouri in Kansas City. As a husband and father of three, he understands how important it is to know that your children are healthy and protected. Thus, Dr. Yenzer provides families with the absolute best in dental care at Yenzer Family Dental. He can be reached for more information through his website.