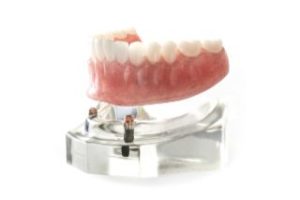 If you're one of the 36 million Americans who wear dentures, you already know that they become loose over time. Even if they fit perfectly in the beginning, your jaws begin to change shape and become smaller and thinner, so your dentures have to be continually adjusted to keep fitting. And, even with these adjustments, they eventually need to be replaced altogether. So what can you do for better-fitting dentures? Consider getting dental implants in Chesterfield! You'll not only improve the way dentures your fit, but your smile will look and feel much more natural as well. Keep reading to learn more about implant-retained dentures and find out who's a good candidate for the procedure.
How Can Dental Implants Improve Your Dentures?
Traditional dentures only replace the crowns of missing teeth (the part you see above the gumline). Dental implants are different because they replace the roots of your missing teeth. In many cases, just 4 to 6 implants are needed per arch. Here are the benefits of implant-retained dentures:
Superior chewing strength and stability – As opposed to traditional dentures that are held in place with natural suction and adhesive, implant-retained dentures use dental implants as sturdy, physical anchors. This means you'll have dramatically improved stability, support and chewing power. And no more embarrassing slips!
Your jawbone is preserved – Implants mimic natural tooth roots, which means they stimulate and preserve your jawbone. This is important for multiple reasons: It helps you maintain a more youthful facial structure and also helps your dentures fit better, longer.
Implants are versatile – Implants can be customized for a variety of patients and situations.
Will Implant-Retained Dentures Work For You?
You'll be glad to know that most people are good candidates for this procedure. But to make sure an implant-retained denture is successful for you in the long-run, a dentist will thoroughly evaluate your needs before making a recommendation. Here are a few things they'll look at:
Your medical and dental history
The health of your jawbone (if you don't have enough jawbone density to support an implant, a bone graft may be recommended)
Your oral hygiene habits
Your gum health
Lifestyle choices such as tobacco use
After you've had a consultation, you'll be one step closer to a denture that fits better than ever (and all the benefits that go with that!)
About the Author
Dr. Jeff Yenzer has been a family dentist in Chesterfield for nearly 20 years. He often recommends implant-retained dentures because of the unmatched stability they provide and has seen firsthand how they improve his patients' quality of life. If you'd like to know how dental implants can be used to improve your dentures or have any questions, he can be contacted via his website.