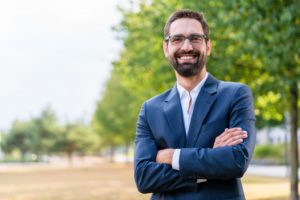 Have you made your New Year's resolutions yet? With the year coming to a close, many people are resolving to change their lives in order to better themselves in the coming year. Unfortunately, most resolutions don't last very long because they don't show immediate results. Instead of trying to run a mile every day or reorganize your entire life, why not start changing your life by changing your smile? Getting the smile you've always wanted can be an easy commitment that will improve your life right away. Whether you have stained, cracked, chipped, or crooked teeth, cosmetic dentistry in Chesterfield has services to help you freshen up your smile for the New Year.
Teeth Whitening Treatments
Teeth whitening is the number one most requested cosmetic service in the country. While there are many over-the-counter options, nothing can whiten your teeth as quickly or efficiently as a trip to your cosmetic dentist in Chesterfield. Using advanced treatments like whitening gels, your dentist can help your teeth become five shades whiter or more. Professional teeth whitening is a fast, comfortable, and affordable way to get a dazzling smile in no time!
Direct Bonding
If you have cracks or chips in your teeth, direct bonding is here to help. Using a strong composite resin, your dentist can change the shape, size, and color of your tooth. The resin will match the shade of the rest of your teeth, so cracks and chips fade into your smile seamlessly. With direct bonding, your dentist can sculpt away the imperfections of your teeth for beautiful, natural-looking results.
Porcelain Veneers
They're not just for the silver screen anymore! Whether you have gaps, stains, or other cosmetic issues, porcelain veneers offer anyone a complete redo of their smile. These veneers fit on the surface of one or several teeth to tackle numerous problems at once. Thanks to a thin, durable shell of natural-looking porcelain, any cosmetic dental imperfections can be covered up with the appearance of a perfect tooth. A flawless smile from porcelain veneers will make you feel like a movie star!
Invisalign
Many people want straighter teeth but worry about how traditional metal braces might impact their appearance in the meantime. With Invisalign, you can smile as you get straighter teeth! These invisible braces blend in with both your smile and lifestyle as they gently shift your teeth into place. While traditional braces may poke and irritate your soft tissues, Invisalign can comfortably straighten your teeth in almost half the time in most cases!  Make this the year you get a straighter, healthier smile with Invisalign.
Take on the New Year with a new and improved smile. Cosmetic services like the ones above help make getting the smile you've always wanted a New Year's resolution you can keep!
About the Author
Jeff Yenzer practices preventive, restorative, and cosmetic dentistry at Yenzer Family Dental in Chesterfield, MO. He is a graduate of the University of Missouri in Kansas City and has completed advanced training in cosmetic dentistry. He loves to create the happy, healthy, beautiful smiles that inspire confidence. If you'd like to learn more about these popular cosmetic services, he can be contacted at his website or at (636) 778-3019.