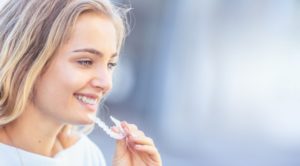 No longer do you only have the option of metal braces to fix your gapped, misaligned or crowded teeth. With Invisalign clear braces, you now have a way to straighten your teeth in a discreet manner. While the procedure obviously yields aesthetic benefits, you stand to gain even more by taking this route. As you continue reading, learn about 5 non-cosmetic advantages of choosing Invisalign in Chesterfield!
How Does Invisalign Work?
The Invisalign method of bite correction starts with visiting your dentist for a thorough examination to make sure your teeth and gums are healthy, and to assess the extent of the bite correction you need. If you're deemed eligible for the procedure, digital bite impressions will be taken and used to map-out a complete treatment protocol. It will be sent to a certified Invisalign lab that will fabricate a complete series of BPA-free, clear-plastic aligner trays.
You'll wear each set of trays for 22 hours a day to ensure you progress on schedule. Then, after two weeks, you'll exchange your current set for the next pair in the series.
As time goes on, more and more patients are discovering just how unique the Invisalign process is.
#1 – Time Saving
With metal braces, you can usually expect the treatment time to take 18-24 months to complete. While treatment times vary depending on each patient's needs, the average duration with Invisalign is around 12 months.
#2 – Precision Treatment
The digital imaging that your dentist will use to map-out your treatment protocol will not only allow you to see what you'll look like once the process concludes, but it also helps your dentist to pinpoint every aspect of your treatment, which includes the duration of the procedure.
#3 – Improved Oral Hygiene
When wearing metal braces, you're required to make adjustments in the way you would normally clean your teeth. There's no need to do so with Invisalign clear braces, since they are removable. Thus, you can brush and floss like you normally would.
#4 – Lifestyle Maintenance
A big part of your lifestyle is the food you consume. Unfortunately, for people who wear metal braces, they have to make concessions in their diet, as hard, brittle or sticky foods could damage the brackets and wires. Because you're required to remove your trays before a meal, you'll still be able to eat all the foods you love.
#5 – Convenience
It's understood, when fitted with braces, that you'll need to visit the orthodontist every four weeks for an adjustment, which can take more time out of your schedule. While your dentist may want you to visit throughout the Invisalign process to monitor your progress, you'll be able to save time because there will be no wires to adjust.
Now that you have a better understanding of the comprehensive benefits that Invisalign has to offer, all that's left to do is to contact your dentist in Chesterfield to get on the path to a beautiful new smile!
About the Author
Dr. Jeff Yenzer is a graduate of the University of Missouri in Kansas City. Throughout his career, he has remained an avid learner, receiving advanced training in cosmetic dentistry and other areas of care. Dr. Yenzer rejuvenates smiles with Invisalign at his private practice, and he can be reached for more information through his website.