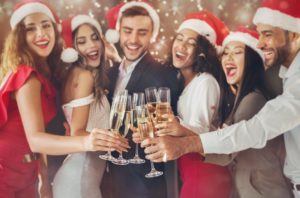 Do you find yourself hiding your smile behind pursed lips because of your discolored or stained teeth? Whether your teeth are yellow in color due to bad oral habits, stain-causing foods and drinks, or aging, professional teeth whitening in Chesterfield can help. Using highly concentrated products that are proven to work and are safe for your oral tissues, your cosmetic dentist can transform your grin into a trait that you'll be proud to show off for the holidays. Here are four reasons there is no better time to improve your grin than now.
Make an Impression On New Connections at Social Events
The holiday season is in full swing, which means you'll need to be ready for a schedule packed full of social events like office parties, friendly get-togethers, and potential blind dates (after all, it is cuffing season). Making a good first impression is the key to forming great new relationships with coworkers, bosses, and even future partners. When you get your smile professionally whitened, you can expect for the first compliment you receive to be about your beautiful pearly whites.
Have a Lasting Impact on Friends and Family Back Home
If you live far from home, one of the few times that you get to see your relatives and friends is when you visit for the holidays. That means that you can expect countless photos and videos to be taken to document the rare occasion. Instead of looking back on a picture of a tight-lipped smile that makes you look like you're not excited to be there, let your joy show by letting your teeth show!
Start Off the New Year With Confidence
On January 1st, you'll be reflecting on the past year and brainstorming ways to make 2020 better. Discolored and stained teeth can slowly wear down your self-esteem and make you anxious about talking to new people. Instead of starting your new year off being self-conscious about your smile, don't be afraid to let it show. After getting your teeth whitened, you'll notice a significant boost in your confidence.
Enjoy Quick and Even Results
One of the best benefits of professional teeth whitening versus store-bought kits is that you'll be able to notice visible results in a single appointment with your cosmetic dentist in Chesterfield. That means that even if your holiday office party is next week, you can still have a brighter smile by then. Plus, store-bought kits often include one-size-fits-all whitening trays that cause the gel to pool to one side of the appliance, which can result in one part of your mouth being brighter than the other. You won't need to worry about that issue when you get customized take-home or in-office treatment from a professional.
If you'd like to get the most out of your holiday season, start it off with professional teeth whitening from your cosmetic dentist. That way, you'll feel confident smiling for photos, laughing, and speaking with new people!
About the Author
Dr. Jeff Yenzer has completed advanced training in cosmetic dentistry and is passionate about improving his patients' smiles and boosting their self-esteem. He offers a large menu of cosmetic services, including professional take-home and in-office teeth whitening. Using highly concentrated ingredients, he's able to whiten his patients' smiles by up to five shades in just 30 minutes! For questions or to schedule a consultation, visit Yenzer Family Dental's website or call 636-778-3019.