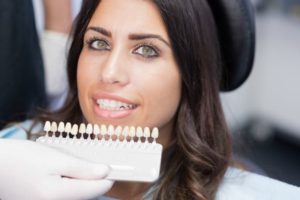 Veneers are one of the most common services offered by cosmetic dentistry in Chesterfield providers. But are they the solution you're looking for? The answer depends on many factors, including your overall dental health and aesthetic goals.
What Veneers Can Do for Your Smile
Most of us are fortunate enough to have a bright, attractive smile when we're young. But the aging process brings with it many changes, some of which can affect the appearance of our teeth. When this happens, the consequences may include loss of self-confidence and awkwardness in social situations.
Veneers were created to address these problems. Here's how they work:
You dentist in Chesterfield will give you a complete oral checkup to ensure that veneers are the right solution for you. It's important that your teeth are in good overall health for veneers to provide the maximum benefit.
Should you decide to proceed, your dentist will gently etch your teeth to prepare them for your new veneers. He or she will also take some measurements which will be used to create the final restoration.
You will go home at the end of the first appointment with a temporary set of veneers in place. Receiving the permanent version usually takes a few days. During your follow up appointment, your dentist will examine the veneers to ensure a good fit and use a medical-grade adhesive to bond them with your natural teeth.
How to Know If You're a Good Candidate for Veneers
It's important to remember that veneers are a cosmetic form of restoration, not a corrective treatment for chronic dental health problems. They're most effective in the following cases:
When the teeth are discolored. Common causes of this problem include: side effects of antibiotics such as tetracycline, excessive fluoride in your water, aftereffects of root canal treatment and consequences of lifestyle choices.
When the teeth are broken, worn or chipped but otherwise in good health.
When the teeth are uneven, or misaligned.
When the patient has visible gaps between his or her teeth.
Patients who suffer from severely damaged or missing teeth should probably consider other forms of restoration such as bridges, crowns, implants or dentures. Those whose teeth are properly spaced, straight, and free of cracks or chips may want to try teeth whitening before considering veneers.
Caring for veneers once they're emplaced is simple and straightforward. Regular brushing and flossing are the most important steps. The patient should minimize consumption of sweets and starchy foods and see their dentist for regular cleanings and checkups.
Certain types of food can stain veneers. These include chocolate and strongly colored beverages such as wine, coffee and tea. While veneers can last for many years, in most cases they will require replacement at some point. Your dentist can advise you on this topic and suggest strategies for getting the most benefit from your veneers.
For many patients, porcelain veneers are a proven way to erase the effects of time. Talk to your dentist about this restoration option during your next appointment. You'll soon have plenty of reason to smile.
About the Author
Dr. Jeff Yenzer studied dentistry at the University of Missouri School of Dentistry, graduating with honors in 2002. He is an experienced cosmetic dentist with advanced training in many types of restorative therapy, including veneers. You can reach his office online or by calling (636) 778-3019.