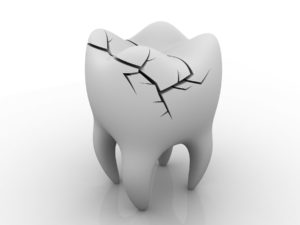 Imagine you are sitting at a casual restaurant, eating lunch and catching up with an old friend. As they fill you in on their life and the latest gossip, you take another bite of your Greek salad – when suddenly, pain shoots through your mouth and jaw! The culprit? An olive with the pit still inside. A cracked tooth can cause severe dental pain and affect the appearance of your smile. So, what can you do? In today's blog post, a dentist in Chesterfield discusses the restorative dental care options for rejuvenating smiles that have broken or missing teeth.
How Dental Crowns Preserve Damaged Teeth
If you have a chipped or cracked tooth and often feel pain when eating or drinking, you may need a dental crown. A dental crown is a tooth-shaped cap that covers a damaged tooth to protect it from further harm, restore its function and improve your appearance.
Dental crowns can be made from a variety of materials, from durable all-metal to natural-looking tooth-colored porcelain, and the treatment procedure typically requires at least two visits to the dentist.
Dental crowns are commonly used for the following dental issues:
Broken, cracked or fractured teeth
Tooth decay
Root canal therapy
Large dental fillings
Cosmetic issues
Why Dental Implants are the Ideal Tooth Replacement Solution
A dental implant is a biocompatible titanium screw that is surgically placed into the jawbone beneath the gums. Implants fuse with the bone in the jaw through a natural process called "osseointegration", mimicking the natural tooth root structure and providing stable support for a new artificial tooth.
Dental implant treatment is generally completed in three parts over the course of several months. Compared to conventional dentures and bridges, dental implants offer several important advantages that set them apart, including:
Dental implants provide maximum support, so you can keep eating your favorite foods without worry.
Dental implants preserve healthy teeth because they do not rely on adjacent teeth for support like conventional bridges.
Custom-made in a lab, dental implants have a natural appearance that blends in seamlessly with the rest of your smile.
Am I a Good Candidate?
Most people make excellent candidates for dental implants, which have an approximately 98% success rate. Several key factors, however, can make the difference:
Healthy gums
Sufficient jawbone depth
Excellent oral hygiene habits
Dental crowns, meanwhile, are one of the most common dental treatments to restore the function and appearance of a person's smile. If you have a cracked or broken tooth, consult with your dentist about dental crown treatment.
A damaged or incomplete smile can cause both physical discomfort and emotional distress. Thankfully, modern restorative dentistry can help repair your smile and rejuvenate your appearance. To find out which treatment is right for you, talk to a Chesterfield dentist today.
About the Author
A proud graduate of the University of Missouri – Kansas City School of Dentistry, Dr. Jeff Yenzer has been providing quality dental care to Chesterfield residents for over a decade. Since graduating, Dr. Yenzer has successfully completed advanced training in cosmetic dentistry and implant dentistry, so he is well-equipped to help repair your smile. Patients old and new can contact Dr. Jeff Yenzer online or by calling the office at 636-778-3019.