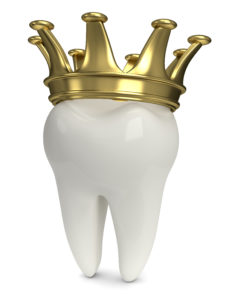 Severely damaged or missing teeth will require dental crowns in Chesterfield to restore them to normal. Once in place, though, are there any special routines necessary to maintain the crowns and see the maximum longevity? As you read on, your local expert weighs in with answers, so you can get the most out of your restoration.
Does My Crown Require Special Care?
Here's the good news – your crown restoration doesn't require any special treatment. That doesn't mean that it can be neglected. The same attention that's required to maintain a natural tooth is necessary for the longevity of your new crown.
Thus, you should do the following:
Brush – Brushing your teeth agitates the leftover food particles and bacteria that cling to them.
Floss – Using dental floss will allow you to get into the hard-to-reach places to remove the substances that your toothbrush can't reach.
Rinse – Using mouthwash then helps to further clear away any remaining debris and bacteria.
Scrape – A tongue scraper allows you to remove bacteria and food that get trapped between the papillae – the small bumps that line the tongue. This contributes to better oral hygiene and limits the number of bacteria that can be transported by the tongue to your teeth.
The combination of all four practices helps to protect your new crown and the rest of your teeth.
Other Tips for Maintaining Your Crown
Along with practicing excellent oral hygiene, here are some of the other things that factor into the longevity of your dental crown:
Avoiding Bruxism (Teeth Grinding) – Bruxism can be caused by excess stress, sleep apnea or an abnormal bite. The unhealthy pressure applied can cause your crown to unseat and even fall out. It's imperative that you seek treatment if you suffer from this condition.
Maintain Regular Dental Visits – One of the simplest things you can do to preserve your dental crown is visit your dentist every six months for cleanings and checkups. While there, the specialist will examine your crown to make sure that it's in the best working order.
A Time-Sensitive Matter
If you have a missing or damaged tooth, it's important to act before the problem becomes greater. A damaged digit that is overlooked could eventually lose too much material to be repairable, while the missing tooth can cause your other teeth to shift. This could lead to serious malocclusion and vulnerability to infection.
The process of recovery and restoration starts with reaching out to your dentist in Chesterfield to schedule a consultation. The professional will be able to get you back on track and functioning normally in a short time.
About the Author
Dr. Jeff Yenzer earned his dental degree from the University of Missouri in Kansas City and has gone on to provide expert care for over a decade. He remains dedicated to helping patients enjoy the benefits of excellent oral health in a pain-free and comfortable environment. Dr. Yenzer restores smiles with crown restorations at Yenzer Family Dental and can be reached for more information through his website.