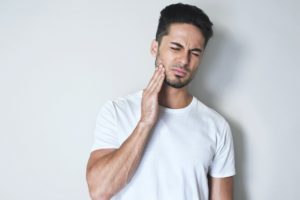 If you need a dental crown in Chesterfield to rehabilitate the health or function of a tooth, you will likely need a temporary restoration. To fabricate your custom-made cap to meet your exact needs, it will take the dental lab a couple of weeks to make it. In the meantime, your tooth must be protected, which is why a temporary crown will be needed. Since they are only intended to be used for a short time, they will not be as strong or durable as your permanent one. As a result, they can become loose or fall off. If this happens, don't panic. Call your dentist right away.

Why Do I Need a Temporary Crown?
The purpose of a temporary crown is to protect your tooth and prevent your teeth from shifting while you wait for your permanent restoration. It is cemented in place using a soft temporary dental cement, which allows it to be removed easily once your final crown is ready to be bonded in place. As a result, it is not made to last forever. In fact, it generally only lasts for a couple of weeks.
If too much time passes, or you do not care for it properly, it may come loose and fall off.
What Do I Do If My Temporary Crown Falls Off?
If your temporary crown has fallen off, carefully remove it from your mouth. Leaving it in place could leave you at risk for inhaling or swallowing it. After you have taken it out, carefully examine it to look for any areas of noticeable damage, such as chips or cracks. You will also want to see if your tooth is still intact or if any areas of it have broken off inside the crown.
After examining the damage, it is time to call your dentist in Chesterfield. Explain what happened and tell them about the state of the crown and your tooth. Your dentist may want to see you right away, while other times that may have you wait until your next appointment.
Until you see your dentist, keep your tooth clean and avoid placing pressure on it. If you are experiencing any pain or discomfort, over-the-counter pain relievers can be used.
Can I Prevent It from Falling Off?
To help ensure that your temporary crown remains in place until you receive your final one, it is best to maintain your oral hygiene habits at home. In addition, avoid chewing on the crown or placing any unnecessary pressure on it.
Restore Your Smile Today!
If your temporary crown has become loose or fallen off, take a deep breath and call your dentist right away.
About Dr. Jeff Yenzer
Dr. Jeff Yenzer not only provides general dentistry, but also specializes in advanced endodontics, cosmetic dentistry, and dental implants. He offers the solutions you need to rehabilitate your oral health. If you need a dental crown, he will restore the health and function of your tooth using high-quality materials. Contact our office today to schedule your consultation.